We all need a bit of motivation from time to time; and many YouTube fans look to their favourite creators for inspiration on how to live your best life. Because in between all the drama, and memes, and silly challenges, there is a total goldmine of YouTuber quotes that you would expect to see hung on somebody's wall as a reminder that life can be awesome.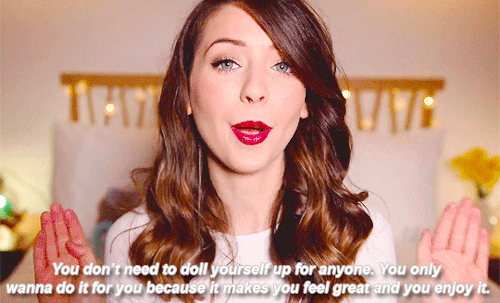 So with that in mind, we decided to create some of our own. Sampling just a handful of inspirational quotes from some of our favourite female creators, we added them to some of the most gorgeous photography we could find – and BAM, posters. Let us know your favourite…
---
Lilly Singh
"Happiness is one of the hardest things to fight for; but it's the only thing worth fighting for."
---
Zoella
"Just say yes. Just say there's nothing holding you back."
---
Grace Helbig
"Surround yourself with people who are the ketchup to your french fries – they make you a better version of yourself."
---
Jenna Marbles
"The single greatest gift you could ever give to the world is to be exactly who you are."
---
Dodie
"There will be a day when you can say you're okay and mean it."
---
Anna Akana
"Spending time by yourself is you we figure out who we really are and what we really love."
---
Hannah Hart
"Nobody is wired wrong, because there's no wrong and right in the way we are."
---
Eva Gutowski
"Don't you want to live a little too?"
---
Find out more about Impulse's new fragrance, Impulse Crush and how to #LiveLifeOnImpulse.