Reports came only a few short weeks ago that "Lazy Town" actor Stefán Karl Stefánsson was in his "final stages" of cancer; but in a miraculous turn of events, it appears that Robbie Rotten is currently feeling, well, Number One.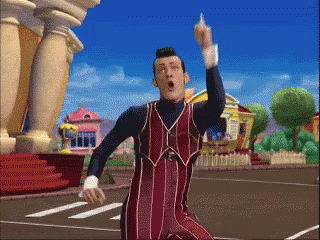 In a recent interview with Icelandic publication RÚV, Stefán reveals that, for now, "the damn disease is gone."
"I'm free from the disease, the cancer," he reveals, after another operation to remove his pancreatic cancer. "Until it comes back, whenever that will be, which will hopefully be never."
"Life is now. It's almost a miracle that I'm still here."
The actor (and his alter-ego Robbie Rotten) rose to internet notoriety last year.
After the 'Lazy Town' song 'We Are Number One' sparked a viral video-editing trend, it quickly turned into a meme-fuelled fundraiser for Stefán's cancer treatment.
In the interview, which has been translated from Icelandic on Reddit, Stefán discusses the new lease of life he has found in quite literally facing death. He opens up about rearranging his priorities, avoiding political discussions on social media, and cycling 20km per day.
"Many people ask me if I'm afraid to die," he admits. "It's something that me and Steinunn [his wife] have discussed a lot."
"Death is such an incredibly insignificant thing, completely irrelevant, while life is so interesting and magnificent."
We're incredibly relieved to see Stefán in good health, and hope it continues for a great deal longer!
---
Also, have you heard? We have a new book!
'Vlogging 101: The Ultimate Guide to Becoming a YouTuber' is available now. So find out more in the video below!