So it's Phil Lester's birthday on the 30th of January and he's going to be 29. 20 FREAKING 9?! Regardless of when you read this article, we all need to be praising Phil and his incredible life on this Earth. We've found 29 of our favourite Phil moments to highlight this spectacular creature so enjoy!
We can't get over the tie and glasses combination.
Setting fashion trends since 1987.
The hat is potentially more famous than Phil himself!
"Rawr means I love you in dinosaur!"
That's exactly how you make us feel Phil!
Oh don't try us Phillip!!
I mean, is he wrong about almond milk? We can't tell.
Officially our favourite dance move.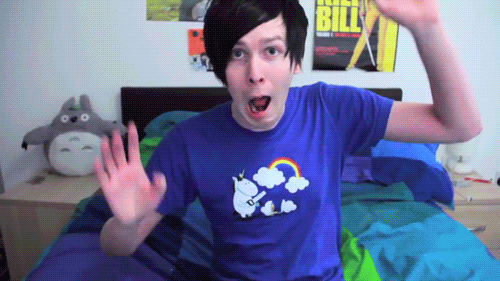 We still haven't got over this freaking marshmallow tweet.
 


We fully support Phil's fashion choices.



Phil's dedication to the waffle game is unreal.
 


FASHION TREND: Zebra neck rests.



That's quite the quiff you're rocking there Phil!
 


That's nearly the quote, bless you.
I AM PHROOT A photo posted by amazingphil (@amazingphil) on



Noooooooooooooooooooooo



Literally, how did this situation come to be?!
We promise we won't Phil.


[Source: Pinterest]


This is so freaking creepy… are you guys seeing the glitch?!


[Source: Pinterest]


Oh my gawd this is perfect.


[Source: Tumblr]


This gif is as amazing as Phil is.


[Source: Rebloggy]


This is 100% Phil's aesthetic.


[Source: Blogspot]


This is amazing!!


[Source: Rebloggy]


This is the magazine cover that should have been printed.


[Source: Tumblr]


We stan Phil Lester and Patrick Stump so hard.




You loveable idiot.




Relationship goals.




We officially believe Phil when he defined Yeezing as listening to Kanye.




oH MY LORD.




We're with you on this on Dan – WTF?