13 Tattoos Only People Obsessed With The Internet Will Appreciate
17 January 2017, 17:20 | Updated: 17 October 2017, 09:46
They're lit fam.
If you're thinking of getting a tattoo in 2017, then oh boy do we have the perfect article for you right here. Inspired by YouTube, Tumblr and the dankest memes known to man, we've rounded up 13 tattoos that you'll only appreciate if you spend the vast majority of your time connected to the world wide web.
---
Remember when Filthy Frank and iDubbbzTV took Anything4Views into a tattoo parlour to get a PewDiePie tattoo? Yup, that happened.
Because who doesn't want a Nyan Cat tattoo? Honestly, I need this information. Is there anyone out there who doesn't want one?
This Pepe tattoo might have a thin layer of regret over the top of it now it's being used by racists...
Doge tattoo? Doge tattoo. Hell, let's just make this article about 13 tattoos all dedicated to Doge.
One word immediately springs to mind... why? Don't get me wrong, I love personal tattoo designs, but this one is just not making sense to me at all.
What is a list about Internet tattoos with out a cartoon-ified PSY tattoo?
Representing Markiplier with this beautiful Wilford Warfstache permanent ink tribute.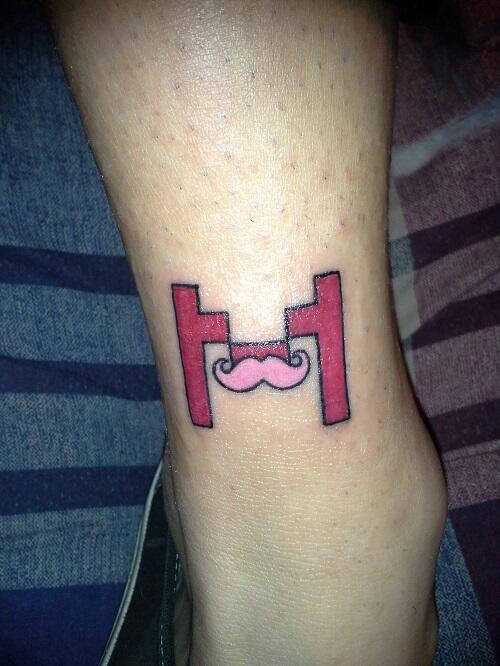 Oh sh*t it's dat tattoo with dat boi. Wasssuuuupppp?
I would pay ridiculous amounts of money for a Lil Bub tattoo. I'm not even kidding. Can I kickstart this?
And talking about Internet famous cats being turned into a tattoo... anyone for Grumpy Cat? QUICK POLL: Grumpy Cat or Lil Bub?
Kicking tattoos all the way back to early 2006 YouTube with this random Tay Zonday tattoo. Because why not, if that's what you're into.
This is a pretty 2016 Internet meme tattoo... but can you remember the connection?
And last but not least - an emoji tattoo! Here we'll leave the comments section open to y'all with one very important question; which emoji would you get tattoo'd on your body?
Be sure to check out our latest Perspectives video- a chance for some of the biggest creators on YouTube to talk about the issues that really matter