The Complete Guide To EVERY Major YouTube Event Happening In 2016
19 January 2016, 14:19 | Updated: 6 November 2017, 09:33
Time to update your calendar and empty your bank account; here's EVERYTHING you need to know about YouTube IRL this year!
YouTube conventions are, without a doubt, the highlights of our year. We get to travel somewhere cool, hang out with all our faves, and best of all: everybody who attends is really, really excited about YouTube without it being weird.
But far too often people miss out on all of this awesomeness because they couldn't find the answers: Where is Summer In The City this year? Does Portugal have any events happening? And what the hell is going on with Amity Fest?
Not to worry, we've travelled the globe (internet) to find all the info we can on this year's biggest YouTube cons. We've got a massive timeline below on all the whens, the wheres and the whats of every major event worldwide!
---
Playlist Live (Orlando)
When: April 22-24
Where: Orlando World Center Marriott, Florida, US
What: One of the first major YouTube events to take off in the US, Playlist Live is back for its sixth year! With a newfound focus on all internet creators, particularly Vine, Playlist has figured out how to evolve and grow so much that it has split into two events (Scroll on to find out about the one in September!). It also doesn't hurt that the event is a stone's throw away from both Disney World and Universal Studios in...
Find out more: playlist-live.com
---
BeautyCon
When: Various
Where: Various
What: Self-described as "The only platform in the world that aggregates the best of Instagram, Vine, Snapchat, YouTube", BeautyCon's event takes place in some of the most stylish cities in the world; last year the convention went to New York, LA, London and Dallas, and hosted some of the internet's biggest style and beauty gurus.
Find out more: beautycon.com
---
ITATube
When: Spring 2016 (dates tbc)
Where: (venue tbc), Milan, Italy
What: Italy's homegrown YouTube convention plays host to creators from all over the world! Entering its third year this year, ITATube is a duo-lingual event of panels and meet-ups that helps put Italy on the global map within the YouTube community.
Find out more: itatube.net
---
Amplify Live
When: Spring 2016 (dates tbc)
Where: Various, Australia
What: Australia's a freaking big place, and it's not fair that half the YouTube world seems to reside in the US and UK. Luckily Amplify has stepped up to take the live YouTube experience around the country in an awesome tour of YouTubers and internet stars. Amplify visited Sydney, Brisbane, Melbourne and Perth last year, so keep an eye on the site to see if they'll be coming near you in 2016!
Find out more: thisisamplify.com
---
VidCon
When: June 23-25
Where: Anaheim Convention Center, California, USA
What: Arguably the biggest YouTube and online video convention in the world, VidCon will be entering its seventh year this summer in sunny California. Founded by the Vlogbrothers John and Hank Green in 2010, VidCon has quickly become the SDCC of YouTube; with specialist Industry, Creator, and Community tracks available, it celebrates all part of online video, and a tailored experience is guaranteed for every kind of YouTube fan. And if you ever find that the amount of content, excitement, or people screaming and chasing after YouTubers is a little too much for you - Disneyland is just a 20min walk away!
Find out more: vidcon.com
---
RTX
When: July 1-3
Where: Austin Convention Center, Texas, US
What: While not specifically a "YouTube convention", RTX is the brainchild of entertainment company Rooster Teeth. Described as a place "where gaming meets the internet", the Texas-based event has made its mark on both the gaming world and the convention circuit for its deep roots within web culture. Its Australian counterpart, RTXAU, is kicking off this weekend in Sydney!
Find out more: rtxevent.com
---
Community Unite London

When: Mid-July (dates tbc)
Where: London, UK (venue tbc)
What: So many events focus on the biggest and best of YouTube; but how often do we pay attention to those with small audiences, or just starting out? Currently being organised for the first time by a group of independent London-based creators, Community Unite LDN will be a one-day conference that highlights the importance of creativity, community, and collaboration.
Find out more: @CommunityUnLDN on Twitter
---
VidYou
When: August (dates tbc)
Where: Portugal (venue tbc)
What: Unless you're from there, Portugal probably doesn't come to mind as one of the most thriving YouTube communities in the world - but they're here, they're passionate, and thousands of them meet in the summer at home event VidYou to celebrate YouTube, stimulate creativity and discuss the future of online video. After moving from Porto to Lisbon, the jury's out on this year's location: but we'll keep you posted!
Find out more: vidyou.pt
---
Summer In The City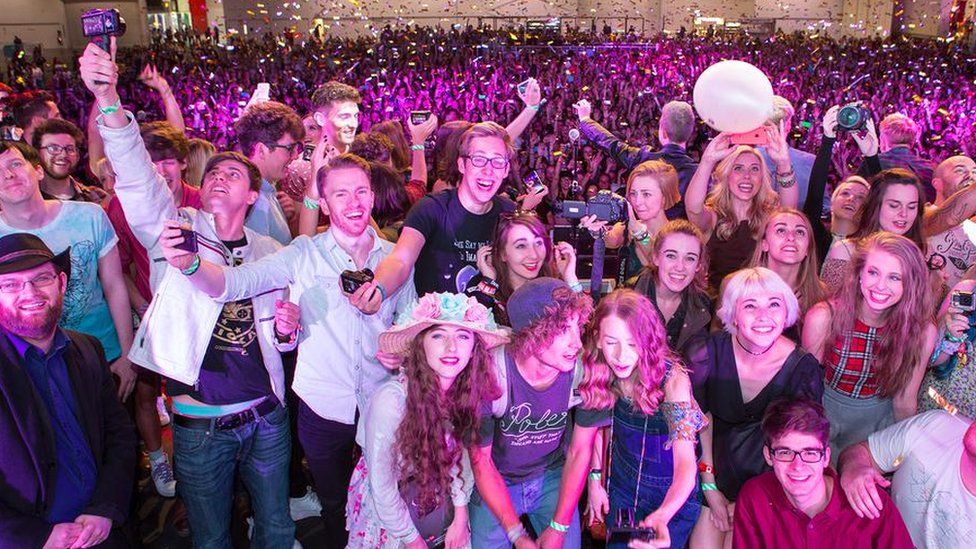 When: August 12-14
Where: ExCel Centre, London, UK
What: SitC remains unchallenged as the UK's biggest annual YouTube event. Starting in 2009 when a group of YouTubers planned a small 3-day gathering in London's parks, SitC has grown organically into a massive convention-sized event, that features a wide program of panels, a chock-full lineup of stage performances, and of course the much-coveted meet-ups with a huge host of creators from the UK and around the world.
Find out more: sitc-event.co.uk
---
VideoDays
When: August 19-20
Where: Lanxess Arena (tbc), Cologne, Germany
What: In just a few years, VideoDays has grown from a meetup at Gamescom into the biggest independent YouTube event in Europe, and apparently one of the most famous annual events in Germany. Not only do they host a wide range of creators and fans in meet-ups and stage performances - but they also host the Play Awards, their own YouTube based award show!
Find out more: videodays.eu
---
Playlist Live (DC)
When: September 2-4
Where: Marriott Marquis, Washington D.C, US
What: The newbie event in comparison to its big brother in Orlando, September's Playlist Live will bring all the big YouTube and internet action to the capital city. Expect even more panels, guests, meet-ups, and of course the all-important Business Day!
Find out more: playlist-live.com/dc
---
Stream Con NYC
When: Autumn 2016 (dates tbc)
Where: New York City (venue tbc)
What: New York has been a tough nut for YouTube events to crack, but Stream Con NYC has nailed it in its first try. Founded by the same people responsible for New York Comic Con, Stream Con has its own Creator Camp, Industry Summit, and might just be on track to become the East Coast equivalent to VidCon.
Find out more: streamconnyc.com
---
Buffer Festival
When: October (dates TBC)
Where: Toronto, Canada (venues TBC)
What: An event unlike any other, Buffer is YouTube's first and leading film festival. This isn't an event to stand in line for hours to meet a vlogger: Buffer is all about celebrating the content. Taking place in the later half of the year in sunny Toronto, Canada, creative YouTube types flock to the event to showcase and premiere short films, sketches, music and all other sorts of new video content for a select audience.
---
Amity Fest (?????)
When: ?????
Where: ?????
What: Amity Fest is the signature event of the gang of YouTubers signed to Gleam - Zoella, Alfie, Joe, and all their pals. Starting in 2014 as a live UK tour (with an additional VIP experience for a little extra cost), the Amity crew neglected to appear at most of the other YouTube events last year, promising "big things" for their fans at Amity instead. However, the last we heard about this was in June:
The squad are currently planning BIG things

— AmityFest (@AmityFest) June 8, 2015
Fans haven't given up hope that Amity might surprise us with an epic comeback sometime this year; but with all the crew regularly "hitting the road" to promote their own projects, products and books, it's not looking likely...
Find out more: ?????? (@AmityFest on Twitter)
---
If you know of any other events near you that we might have missed, let us know in the comments or at @WeTheUnicorns! We'll also be updating this post whenever we learn more info on any event, so keep checking back....