5 Ways Your Phone Can Seriously Up Your Vlogging Game
5 March 2016, 14:12 | Updated: 17 July 2017, 12:14
Who needs a fancy camera? With these accessories, you can become a YouTube pro using just your phone!
When it comes to starting your YouTube channel, everyone usually begins with the best (but also most basic) equipment available to them. In the days before expensive Canon DSLRs took over, YouTubers often started with a simple digital camera, or their webcam - but nowadays, the best first camera can often be found on your phone!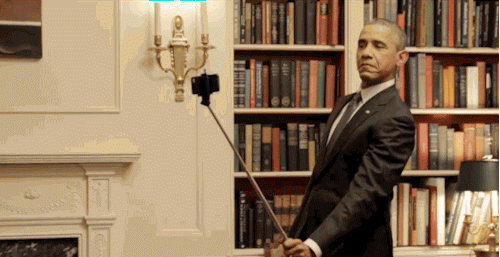 But before you tap open your front camera and cringe at the size of your face onscreen, we have a few tips and tricks and accessories to help you get the most out of your phone vlogging fame. If you have a little know-how and a bit of money to spare, you might never need to invest in a huge camera!
DISCLAIMER: Most of our experience comes from using iPhones, so this is where our suggestions have more bias. However, a little Google-fu will often reveal alternatives for every model of smartphone available!
---
1. Lenses
The cameras on every smartphone available are improving with each new version; but sometimes they still just don't capture enough, or might not look as pretty as you'd like your videos to look. But much in the same way that YouTubers with expensive DSLRs use different lenses for different occasions, you too can find lenses designed fit your phone and make your shots look stunning.
Our recommendation: Olloclip 4-in-1 Lens (retail price Ł69.99)
A great place to start with your phone vlogging is the ability to fit more in the video frame. You can accomplish this with a simple wide-angle lens, or maybe get experimental with a crazy fisheye.
This nifty add-on from Olloclip comes with both; their version for iPhone 6 is designed to clip onto the top of your phone, meaning it adds a new lens to both the back AND the front-facing camera, for quick switching action.
The 4-in-1 Olloclip also has two macro lenses underneath, for some of those super up-close shots of pennies and other cool photographic subjects. Plus, not only does it have a bunch of accessories for carrying it around discreetly - but it comes in a bunch of cool colours, including a gorgeous white/rose gold model to match your fancy iPhone!
They also have models available on the Olloclip site for iPads, older iPhones, and the Samsung Galaxy S4 and S5. If you need to see an example of how the Olloclip lens affects the look of your vlogs, check out this demo from Philip DeFranco!
---
2. Tripods
Even though your phone's camera is great, trying to film without actually holding it can be a pain in the butt. They're usually pretty thin, so you have to jump through hoops to keep it standing up; and even then, the angle you get usually isn't great. This is a problem that is usually solved for other cameras by using a tripod; but how can you fit your phone on one?
Our recommendation: Joby Gorillapod Mobile ($15 at Photojojo)
People have been using Gorillapod tripods to vlog for years; and this tiny flexible version that can fit any model of phone is a must-have. Each leg has multiple joints, for a wide range of positioning and grip, and it can even help you film a more stable vlog while on the go (think "mini selfie stick")
---
3. Lighting
If you're vlogging on the go with your phone, then the surrounding lighting might not exactly be what you need. Your phone's flash tends to make faces looks washed out, and of course, carrying around a full lighting setup is impractical and expensive.
Obviously the easiest way to fix this is to only film in broad daylight or in well-lit places; but what if something cool is happening in the dark?
Our recommendation: Ztylus Smartphone Ring Light ($28-43 at Photojojo)
You know that fancy ring of light that some dreamy YouTubers have in their eyes? That's usually caused by something like one of these little beauties.
Ring lights help diffuse the harshness usually caused by direct light, such as your phone's flash. This awesome miniature version is sold by Photojojo as a case for the iPhone 6, with the light mounted on the back; but they also sell just the small, portable light on its own, for those with different models.
---
4. Sound
Sound is a royal pain. Even with an expensive DSLR, if you want your videos to sound their best, you need to record sound with something better than the built-in mic. This goes doubly for smartphones; and if you're vlogging in public, all manner of noises like traffic, wind and other humans can have you feeling a bit like:
Our recommendation: RŘDE VideoMic Me (retail price Ł49)
Most of the vloggers you're watching record their audio with a RŘDE directional mic on top of their camera - And now the brand have a version for your phone!
Designed to only pick up the audio that the microphone is pointing at, a directional mic like the VideoMic Me is a must-have for recording in public places with a lot of background noise or wind. It plugs into the headphone jack of your phone without any fuss and can instantly be used in place of your built-in mic - and even comes with a furry windshield. Plus, as far as microphones go, this is very reasonably priced.
Check out a test-drive of the product from the guys at RŘDE:
---
5. Editing
Let's be honest: when it comes to editing, almost no mobile app will ever compare to the flexibility and functionality of editing software on a computer. Even when vlogging with a phone, most YouTubers will import their footage into Premiere Pro, Final Cut or even iMovie to create their finished result.
But we understand that access to desktop software isn't always going to be available to everyone, and there are still ways you can do the entire videomaking process on just your phone!
Our recommendation: Pinnacle Studio Pro (Ł9.99 on iOS App Store)
There are an abundance of free editing apps on the App Store (most with in-app purchases), and Apple's own mobile version of iMovie is only Ł3.99 - but if you can invest a little more, none of these have as much freedom to edit as Pinnacle Studio Pro.
Offering all the major features such as titles and motion graphics, picture-in-picture, transitions and even audio editing, this app is the closest thing available to the kind of editing software found on desktop.
---
Obviously these are all just our recommendations, and you might want to do different things with your phone and its equipment; but this is a primer to show you just a few of the things you can do to upgrade the tech you already have!
And to help you get started, we have a coupon code to give you $20 off at Photojojo, a site we have referenced a couple of times here: Just click this link and it will be added to your cart!
HAPPY VLOGGING!