7 Sure-Fire Ways To Up Your Vlogmas Game This Holiday Season
30 November 2015, 17:32 | Updated: 17 July 2017, 12:12
The holiday season officially starts on December 1st and if you're not ready to take off that summer dress and put on your Christmas frock, do NOT go on YouTube for the next 4 weeks. It's about to get hella festive up in there.
But if you're so keen on the holiday season that you want to share your cheer across the interweb, we've come up with 5 key things to keep in mind as you document the month in everybody's favourite video format - VLOGMAS!
Fear not friends, like 99.99999% of people on this planet, we also haven't started vlogging our daily lives yet. The first step towards doing so involves asking yourself one very important, very philosophical question: Am I confident enough to be on camera and commentate on my life every single day for the next 25 days? If not, here's a nice article about how hot Phil Lester is. If yes, read on!
Unfortunately confidence isn't the only thing needed to initiate your Vlogmas 2015 debut - you'll need a functioning piece of filming equipment too. With mobile phone technology getting super impressive, Instagram or Vine videos are now amazingly simple to do and are accessible to all audiences. But if you're looking for something more substantial and want to take vlogging way more seriously, we have 3 lightweight cameras that could get you on your way:
Canon Powershot GX7 / Sony Cyber-Shot RX100 III / GoPro Hero4 Black
'Tis the season to get festive, so go outside and live the vloggers dream! We all know from experience that even our favourite Vloggers can have a boring day, but when it comes to Vlogmas you need to make sure you're dedicated to making a video blog to die for. Jealous and envy are the key here!!
Go to christmas markets; make beautiful (and easy to replicate!) festive biscuits; decorate your room/christmas tree/garden; but most importantly make sure you have fun! Don't just find things in your area to go and vlog. This is the only December 2015 you'll have on this planet, so enjoy every second of it!
If all else fails and you run out of exciting commentary, everybody loves a montage. Point your camera towards beautiful festive activities and delicious foods, whack some cheery music in the background and upload it to YouTube - instant holiday aesthetic!
The vlog above has nothing to do with Christmas, but can you remember when it came out and everyone went CRAZY for it?! This is down to one fundamental fact about Tom's precious video with his son: it was personal.
People on the internet absolutely adore seeing how other people live. They adore seeing your strange family traditions and witnessing the sheer amount of banter you have with your mum over the Christmas dinner. So don't focus your Vlogmas on how fun YOUR adventures are; try to really show viewers your world and who you take with you on these adventures.
Holidays are the perfect time of year to spend with friends, family and loved ones - and we truly hope you're never in short supply of any of them. Whip out your camera and introduce us to your universe!
So after you've been friendly and introduced us to your folks, it's time to get on to that Challenge video hype! Why do people love those drunk work Christmas parties you have to go to every year? To see you do something stupid in the hopes it gets caught on camera ofc!
Tyler may be the Queen of AuGuest, but Zoella takes over the crown for Vlogmas as she gets festive as heck every single day of the month. If you're not feeling up to the challenge for 2015, make sure you keep on eye on her take on Vlogmas to give you major inspiration and Christmas goals for next year.
Always remember to keep it natural and fun; no one will enjoy a video in which you've sat your sibling in awkward fear as you decide it's a good idea to pelt them with Christmas food. No one needs to see that.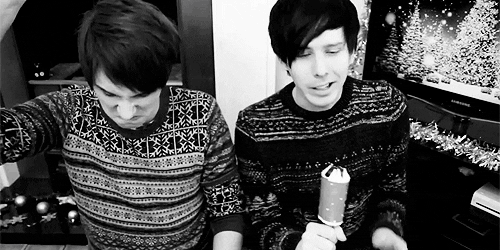 The weather may be terrible and your favourite Christmas movie is on TV AGAIN, but no one needs to see you sit in your room all day and 'talk' about how amazing the holidays are. Get outside and freaking show us, and leave the laziness up to us!
As a full-time Christmas vlogger, you'll be responsible for posting the most inspirational and festive holidays videos this planet has ever seen. Go ice skating or travel to cities that are begging to be immortalised on camera - please show us the world we can't ever reach.
If you want ideas for how to travel vlog properly, look no further than the absolute bombshell Marzia Bisognin (CutiePieMarzia). Her effortless style and professionalism with editing/montages make cities and people more fascinating and desirable - and the promise of an appearance from Felix also makes them good, we suppose...
Here are the last 3 of her travel vlogs, and trust us, if Marzia can make a sleepy British countryside town look good, we're sure you can find SOMETHING: Rye / Savannah / San Francisco.
So you've found something amazing to go out and do, but when the heck are you supposed to edit this?! The holidays are (hopefully) a nonstop festival of madness, excitement and life changing experiences - are you suppose to just drop it to make sure you can edit your vlogs?
For the most part, unless you are already a full time YouTuber, the possibility of pulling off a full month of Vlogmas can be totally daunting. Instead, stick to a schedule you're far more comfortable to complete - especially if you aren't going out every single day and being all exciting.
The best times to upload are on the midweek hump day (Wednesday) or the end of the weekend slump day (Sunday), in order to perk up your viewers and yourself for all the fun things you should be thankful for! Don't overload yourself with editing and uploading duties; keep your video load light and manageable to make sure you can quickly go back outside and live the holiday you want.
Look, if you want to compete with the MVP's at Vlogmas, you NEED to get yourself out there! YouTube, Facebook, Twitter, Tumblr, Instagram, Vine, Pinterest, even Snapchat - get your voice heard and make sure people are watching!
If you only want your Auntie Christine to watch your videos, that is 200% your deal (and is kinda cute too), but if you want to finally break into the world of full-time vlogging you MUST take Vlogmas as seriously as your faves do! And we see no other time of the year more perfect than Christmas to let your personality shine on camera in order to attract the following you've always deserved.
And now, for some Vlogmas 2014 inspo from our faves to spark our excitement for tomorrow...
COLLEEN BALLINGER!
FLEUR DEFORCE!!
JOE SUGG!!!
TANYA BURR!!!!
ZOELLA!!!!!
INGRID NIELSON!!!!!!