Let's Look Back To When These YouTubers Were In Harry Potter
7 April 2016, 11:11 | Updated: 17 October 2017, 09:41
Let's dip our faces into the YouTube pensieve and remember the times YouTubers featured in Harry Potter
Today we are taking a trip down memory lane and reminsicing about the times when some of our YouTube faves appeared in everyone's favourite film series: Die Hard Harry Potter. You may have already heard some of this info, but there's a good chance we might have something here that will suprise you, so as Harry Potter would say: 'Let's start reading the article!':
1. Zoe Sugg
Yes, the internet's best friend Zoe Sugg (aka Zoella) was in fact featured in the first Harry Potter film. Zoe wrote about the experience on her blog back in 2009. She said that she was included in the film because her school was in the village where filming was taking place and the filmmakers needed extras. Zoe was in a scene in Snape's potions class, but sadly was never seen on the silver screen, as her scene got cut.
Zoe has also dropped a romantic bombshell regarding her and Potter star Devon 'Ladies' Man' Murray: "Devon Murray (who plays Seamus Finnigan) asked me out..haha. i said no. I was 10 years old and boys scared me." Looks like we have a new ship on our hands: Rise Zevon, rise!
Devon, seconds after being rejected by Zoe
While her role in 'Philosopher's Stone' (or 'Sorcerer's Stone' if you're American and wrong) has been known for a while and brought joy to many fans online, what you might not know is that she was also had a role in the second film. That's right, she also had a role in 'Harry Potter And The Chamber Of Secrets' (which was known as 'Harry Sorcerer And The Sorcerer Of Sorcerer' in the United States). Zoe blogged that: "I was also in the second film…again..you cannot see me. I went to london to be on the hogwarts express…which was so exciting."
Oh and in case you were wondering what house she got 'sorted' into by the film makers, she answered that on her blog too: "I was in hufflepuff :)"
2. Bertie Gilbert
Bertie Gilbert is now known for his film making, but before he was taking charge behind the camera, he was getting his hair slicked back in front of it. Bertie played Draco Malfoy's child Scorpius at the end of 'Harry Potter And The Deathly Hallows Part 2: This Time It's Deathlier'. He can be seen in the scene right at the end where (SPOOLR ARLET) time has jumped forwards and the Potter gang are seeing their kids off on their first day at Hogwarts. Take a look at this lil villain: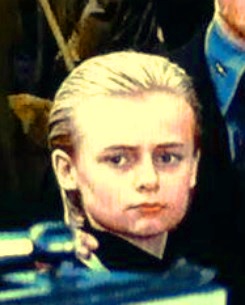 3. Gracie Francesca
Self-described sass queen Gracie Francesca also got some solid screen-time in the Harry Potter series. For example, here she can be seen hanging out next to likes of Emma Watson:
Which I guess means she wins the game of 'which YouTuber was the most in Harry Potter'. Incidentally, we have an exclusive interview and photoshoot with Gracie coming out this week - so keep ya eyes open for it!