It's Been A Month Since The PewDiePie Drama; But What Have We Learnt?
14 March 2017, 14:53 | Updated: 17 July 2017, 12:25
We're about to break it down for ya.
At the time of writing, it has now been a month since news broke that Disney had severed ties with PewDiePie following some of his Anti-Semitic jokes were uncovered by The Wall Street Journal. In addition to cancelling his YouTube Red show and seeing Felix's brand removed from all YouTube campaigning, today we're looking into what we've actually learnt since all this sh*t this the fan.
We've broken this whole discussion down into five significant things to have happened on PewDiePie's channel and the wider YouTube community to paint a picture of the climate YouTubers live in now.
You ready Felix?
---
Firstly, PewDiePie has some of the most hardcore fans on the entire planet.
In the space of one month, we've discovered just how ferocious and keen the Bro Army are to support their fave. People have genuinely got tattoos saying "PewDiePie did nothing wrong" after the same hashtag trended on Twitter briefly. Things were even kicked up a notch when people close to Felix and sleuthy users discovered more news about the journalist that "exposed" him.
The Wall Street Journal journalist, Ben Fritz, had his Twitter raided by furious fans of Felix's and it was later discovered that he himself had been tweeting a slurry of Anti-Semitic and racist jokes as well. The trend #HypoFritz suddenly appeared and Felix started to use it in his videos, in addition to his header image on Twitter. None of this support would have been possible without his dedicated fanbase who all believed Felix when he said that "context matters".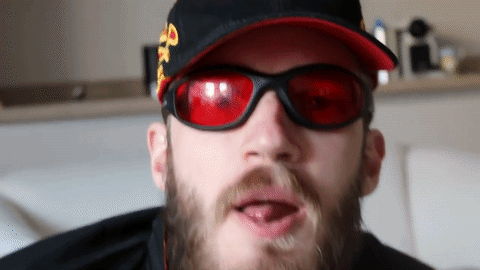 ---
Felix's new style of comedy this month has been aimed directly at The Wall Street Journal and the journalist who "exposed" him.
If you've watched even a SINGLE video since Felix was dropped by Disney and publicly shamed by The Wall Street Journal, you will have noticed that he likes to draw attention to them a lot. Not only has he since played a game about specifically shooting Hitler in the balls, but he's made multiple responses regarding his friends and content surrounding the conversation of his jokes.
One particular feature that's been strong in his videos has been the reinvigorated life of Ainsley Harriott, who has now become some sort of demon possessed by The Wall Street Journal. Not only does his forehead bare the symbol of the brand, but he's been seen hypnotising Felix to play "2014 PewDiePie games" to distract people away from other PewDiePie discourse. Oh, he also had his head ripped off again for the second time in six months.
---
YouTubers may need to be more aware of their viewers than previously expected.
The ripple effect following Felix and his jokes going viral resulted in the entire YouTube community coming under a magnifying glass. Outlets that would previously never watched a PewDiePie video suddenly had very strong opinions about his entire career and tried to weigh in on the topic with intense debate articles and opinion-led news articles.
In addition to this, other creators such as JonTron have been attacked for their incredibly racist presence on social media, leading people to discuss the idea of comedy and where people should be drawing the line. The whole landscape of YouTube is being speculated as people such as Felix and Jon come to represent the most problematic of them all, meaning that other creators are being treated with the same insatiable desire to belittle and judge accordingly.
---
YouTube may be more concerned with their business than they are with their creators.
This one is hard to explain, but stay with us. PewDiePie has been the most subscribed YouTuber for a while now. Not only has he been the top, but he's also been one of the most talked about characters on the whole platform based on his new 2016-2017 style of video - drama, dark comedy and sexually explicit video games.
Up until The Wall Street Journal and Disney put their foot down, YouTube seemed happy to turn a blind eye to Felix's antics... that was until it was too late. Their move to cancel Scare PewDiePie season 2 has been widely considered by fellow YouTubers as a cowardly move to appease other businesses. In fact, in a recent episode of Jenna Marbles' podcast, she discusses being scared by the power YouTube has over peoples right to broadcast themselves on their website. Even Ethan Klein felt like he had to weigh in and help his friend.
Whilst it's understandable that Disney would not want to be associated with Felix's new content movement, it was the move from YouTube that really got people talking. On the site, we even discussed that there are other YouTubers doing far worse than Felix but seem to get by absolutely unscathed. Was he punished for being the most popular? We'll never know for sure.
---
But finally, the future still looks bright for Felix and co.
Whilst Felix has been a figure of hate speech and Anti-Semitism on YouTube for the past month, it has not slowed down his success. His subscriber count is growing unfathomably fast every single day and we believe it won't be long now until he reaches 60 million subscribers. Also, his network Revelmode recently put out an advert for a Production Assistant - so they're even looking to expand the team around Felix.
People such as JackSepticEye and Markiplier have both made videos and Tumblr posts about their support for Felix and the topic of racy or out-of-context jokes, meaning that this influence is spreading even further. At the end of the day, the conversation has shifted away from Felix and his behaviour, and has instead turned into YouTubers versus the mainstream media as they continue to be unable to handle creators and their edgy take on entertainment.
---
But what do you think about the past month? Let us know in the comments below.
Save