Here's Why Vloggers Are Abandoning YouTube For Snapchat
26 May 2016, 14:29 | Updated: 17 October 2017, 09:41
Don't lie, you've noticed it too.
It's rare to have a day go by without YouTubers promoting their Snapchat on social media or in their videos, and who could blame them?! With so many personalities finding fame online by uploading daily vlogs, it's no wonder that they're now opting for the easier and more instant option of Snapchat, where fans can now open up the app and immediately consume content. We've noticed this trend is 'More Snapchat, Less Vlogging' is becoming more apparent, so we've done some digging to bring you proof.
ViviannaDoesMakeUp recently apologised for not uploading content to her YouTube channel over the last seven days, but later added that instead she had been doing daily updates over on her Snapchat account. Likewise, Victoria from InTheFrow has openly spoke out about using the app to  document her travels instead of whipping out her vlogging camera, thus leaving her with more time to actually ENJOY the holiday and film more lookbooks and tutorials with her bae.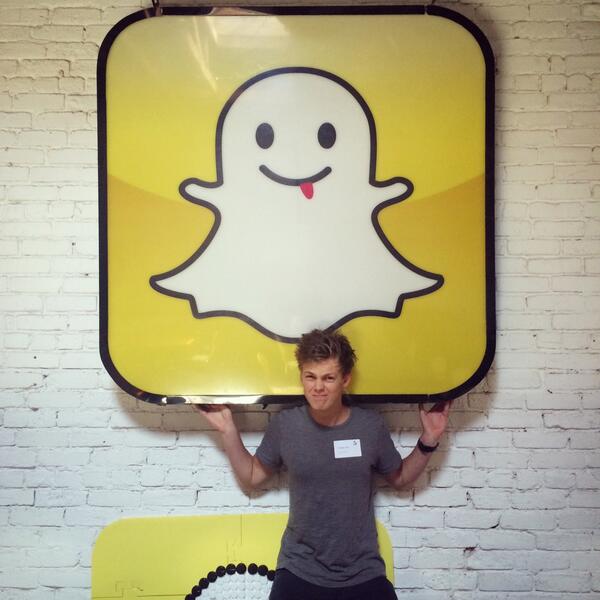 Victoria and Anna are primarily beauty and fashion YouTubers, so vlogging their day-to-day life is more of an add-on to their channel so for them, Snapchatting instead of vlogging is probably a lot more engaging. Especially for fans of beauty guru's who want to get to know the person behind the lookbooks, Snapchat offers an additional free pass to look behind the scenes of some of the most influential vloggers on the Internet. Additionally, Tanya Burr tweeted this week asking for quick fire questions as she was going to host a spontaneous Q&A; on her Snapchat - which was new for #BurrBears as the feature normally appears on her main channel.
Our favourite thing about the app is that it introduces a whole new feeling of spontaneity when it comes to vlogging as fans get see what their faves get up to any given hour of day. Back in the old days before production values became a central focus, YouTube used to be about uploading impromptu videos and randomly picking up the camera when in the mood. It has allowed channels to have a natural, off the cuff and relatable vibe that it sadly lacking in recent times. Instead, now it's all studio lighting, full faces of make-up and set dressing - even in their own bedroom!
When it comes to preparing to film a YouTube video, it's possible that it now takes even long than the filming process, so we can't blame YouTuber's for embracing the carefree attitudes of Snapchat. Hopefully, because of the divide between the two platforms, we could be seeing YouTube videos looking for thought-out and professional vlogger whilst Snapchat showcases a more relaxed and everyday individual.
But it's not just vlogs and Q&A;'s that are moving from YouTube to Snapchat; how many hauls have you seen just today alone?! For example, not too long ago, Zoella hosted a Charlotte Tilbury which lasted for at least 10 minutes and saw Zoe going over every single item in her post, making it clear that the social media site is offering more to creating other than just filters.
Our final shred of airtight evidence comes from Mr Pointless Blog himself. In a recent interview, Alfie Deyes said that his Snapchat story receives around 16 million views before 4.30pm on any given day; a number which he doesn't achieve on YouTube. With Snapchat's recent update allowing users to watch stories run together without the tap of any screens, you can't help but watch all of them in one sitting. It begs the question, in that equivalent amount of time watching Snapchat, could you have just watched a YouTube vlog instead?
Have YOU spent more time on Snapchat today or YouTube? Let us know in the comments.