5 Easy Tips For Starting Your Gaming Channel
23 September 2015, 15:12 | Updated: 17 July 2017, 12:11
Gaming videos have had an even bigger surge of popularity across the greater YouTube community in recent years. Personalities like the guys at Achievement Hunter, Markiplier and the unstoppable PewDiePie have inspired fans, amateurs and even YouTubers of other genres to start their own gaming channels.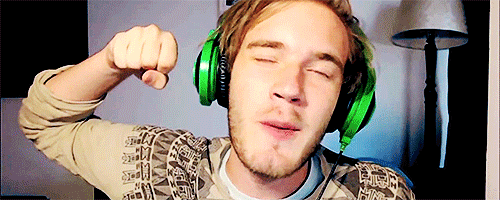 But as many have learned, it's not as easy at it looks to get your channel off the ground. So here's some handy tips from us to help you kickstart your YouTube gaming adventure!
1. Get the equipment
This one's a no-brainer, but if you're going to record your playthroughs, you're going to need the right kit.
If you're console gaming (i.e. on a PS4 or Xbox), hardware like a game capture device is required to record from your console straight onto your computer.
These are available from online retailers like Amazon, and can range anywhere from an average of Ł50-150, depending on how high quality you want your recording to be. The software usually comes included, or can be installed separately, and is pretty straightforward: even your audio can usually be recorded from within the game capture program.
Which brings us onto sound: if you're investing money into your gaming channel, it's definitely worth picking up a microphone, as the built-in mic on your laptop or webcam is going to sound pretty low-quality against the audio of the game. There are some free-standing podcast mics that are pretty affordable, and will make your commentary even more engaging.
If you want to film yourself while playing, you don't need a fancy expensive video camera right away; but you will have to get familiar with some decent video editing software like Final Cut Pro or Adobe Premiere Pro to handle both the video and the game recording, as well as to tighten up your video to make it more interesting.
The obvious example for all of these things is PewDiePie: in his playthrough videos, Pewds can be seen with his own microphone in front of him, usually with both himself and the game footage edited together onscreen, and lots of other random edits that make the pace and tone of the video way more fun than a regular "Let's Play".
2. Stick with a series
PewDiePie didn't start out with lots of random edits and vlogs; he began by building a loyal audience with some pretty consistent playthroughs of Minecraft and Amnesia.
When building your audience, it helps to start off by being more consistent with the kind of games you're playing, and how much of it you share. With a newer, longer game, audiences are looking for "Let's Play" videos of each level/chapter/part; so it's worth making a few videos as part of a YouTube Playlist.
Vlogging superstars Dan & Phil have seen some massive success with their gaming channel after committing to continuous strands of videos: like their epic series with the adventures of adorable monstrosity "Dil Howlter" in The Sims 4.
3. Play with friends
If you're a little nervous about kicking off your channel alone, it helps to either get some friends in to play with you occasionally, or become a part of your channel full-time. Honestly, some of the best (and most hilarious) gaming videos come from the chemistry between two people playing together.
One of the all-time greatest examples is this gem from Achievement Hunter, where Gavin and Michael completely annihilate a heart replacement patient in Surgeon Simulator (warning: gory bits, loud voices and a LOT of swearing to follow).
4. Care about what you're playing
Whether it's your new favourite game or a frustrating new release that's impossible to get through, it's important to have some passion for what you're playing. Many gaming channels don't record their face while playing, and so they depend on their commentary for keeping the audience engaged. So don't be bored!
Hundreds of gaming channels lost their chill and rage quit while playing The Impossible Game: and Markiplier was just one of them. But even though he and many others hated the game, their commentary made it all the more enjoyable.
Which brings us to our last point...
5. REMEMBER TO TALK
If you're alone and playing a game, it's easy to get distracted and forget that you're recording (honestly, I've been there).
You're going to get nowhere if all you do is upload the gameplay footage with little to no commentary. The gaming YouTube world is now full of personalities all competing for the attention of their viewers, and people are way more likely to subscribe to playthroughs that have this:
You don't have to start as a Crazy Quirky Internet Person, but it always helps to have your voice out there from the beginning (So see part 1 again for advice on a microphone).
Good luck and game on!