Here's What YOU The Unicorns Have Been Saying To Us This Week
3 June 2016, 16:14 | Updated: 17 July 2017, 12:16
Shady, funny, and sweet - We've picked our favourite comments, Tweets, and Facebook posts from all of YOU this week!
If you've been reading We The Unicorns for a while, or following us on any social media, then you probably know we get some great comments/@replies/the lot. It probably comes from having so many creative YouTube fans reading our site!
So we've decided that at the end of every week, starting now, we're going to pick out our favourite responses from you guys, and post them here: right in their very own weekly feature!
---
Our favourite combination of comments came from the YouTube Channel Name Generator, which had some great results...
---
The week also started off quite interesting over on our Twitter, with the role of our No.1 fan becoming some sort of contest...
And this person had some strong words to say about our Marcus Butler/Bee Movie content.
We also had some lovely interaction with some creators, including Louise Pentland loving our latest hot take on traditional media's issues with YouTubers:
And Charlie McDonnell giving our report on the cover of his new book a cheeky RT!
---
People had this to say about a photo of Jacksepticeye's green hair: 
Jack says:
And someone tried to get sassy with one of our challenges!
Of course, we had to clap back.
And they clapped back harder.
Well played...
---
Thanks to everyone we featured for your amazing and hilarious comments! If you ever want to appear on the site, make sure you don't miss a thing by following our Twitter and Facebook page. We're also going to give you a head start right now, and invite you to share your thoughts with us on an ongoing issue...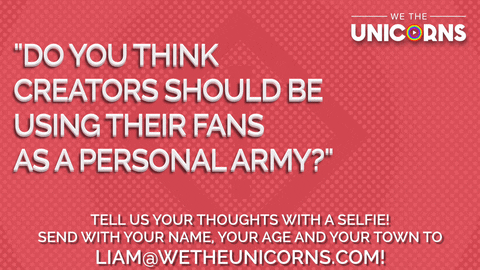 Gamers. Vegans. Slightly meaner beauty gurus. There have been a lot of controversial YouTubers that like to pick fights with each other recently, and what usually happens is they send their legions of subscribers after each other to cause even more drama. Is this the right way to treat not only fellow creators, but their own fans?
We want to hear your thoughts! Send us a few sentences telling us what you think about this issue to liam@wetheunicorns.com - and if you like, include a picture of yourself! Be sure to include your name, location and date of birth: and you might be featured in our article about the whole thing!