OPINION: Beauty Tutorials Will Die In 2017 For This One Reason
21 March 2017, 10:35 | Updated: 17 July 2017, 12:25
I've had it. Officially.
OK so not the entire genre of beauty on YouTube is going to die this year, but I genuinely feel a revolution coming soon. For a long time, I've known that I'm hardly the key demographic when it comes to eyebrow tutorials and contouring techniques. But having recently dipped my toes back into the beauty world for some light inspiration, the tutorials I saw were so extra that I left YouTube in frustration.
For this one reason alone, I believe that the world of beauty tutorials on YouTube will either die or need some serious overhaul by the end of 2017. It's a bold statement, but one that I truly believe makes the world of sense when you consider the type of stagnating content over-populating beauty YouTube on a daily basis.
---
So, here we go. The reason why YouTube makeup tutorials are going to die in 2017 is because...
They're selling a level of perfection none of us are capable of achieving.
Before you accuse me of being bitter because I can't do a smokey eye like the literal makeup artist Kandee Johnson, just hear me out. A few years back, the entire globe was captivated my Kim Kardashian and her secret to makeup success... contouring and highlighting. Suddenly we all started doing it, and whilst my selfies looked thebomb.com, I would catch myself in the mirror a few hours later and notice how awful I looked.
In real life, I'd had a big black streak across my cheek where I once thought I looked chiselled. My highlighter would be less on fleek and more all down my face. Just a quick look at the Instagram profiles of Jeffree Star, MannyMUA, James Charles and NikkieTutorials seem to paint the same picture. Sure, they all look absolutely stunning... but was it just for that one second they posed for their high-powered lighting correctly and air-brushed out all their pores? It's not real, as Wayne Goss recently discovered that some creators use realtime filters whilst recording.
These creators, whilst hugely talented for a multitude of reasons, aren't selling beauty tutorials anymore - they're selling a fantasy. No one, unless it's their job to do so, has 16 eyeshadow brushes to apply their 19 shades of eyeshadow to hit that perfect smoke gradient on their tiny eyelid. It's completely unattainable, and I can't be bothered to tune in anymore.
Those tutorials don't tell me how to paint my face for real life, but instead they teach you how to paint for a thumbnail or Instagram selfie. They don't represent the tired woman who stands next to me panting for breath on the underground during our morning commute. They don't represent the guy working in a clothing store trying to pay off his student loan and top up his mascara on his lunch break.
Even creators like Tanya Burr and Zoella, who try to sell the allusion of being relatable in their makeup tutorials, still can't seem to find the right line between something everyday people can actually do, and something only YouTubers with time to spare and brand deals can get away with. Everyday makeup is something you see on the streets, and after 10 years of YouTube, I feel like those simple videos are a thing of the past as showmanship and retaining a captivated audience means creators need to one-up their last look.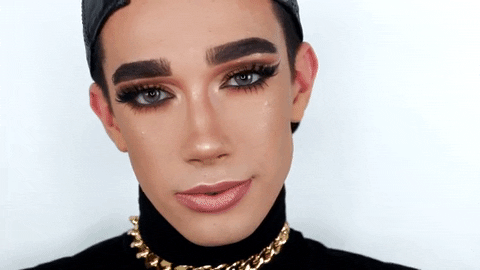 Unfortunately, these people and these faces we subscribe to do not exist outside the internet for one very simple reason... they are not inspirational anymore. These types of beauty tutorials, the ones where the artist spends 20 minutes applying 10 primers and spraying their face with that weird stuff to lock in their makeup, will soon be reserved for something I'm coining "fictional watching".
When I'm sat in bed in my PJs covering my body in residue Pringles crumbs, I might flip through my subscriptions and watch a Miss Fame video because I wanna see how she's turning her face into a starlet this week, but that's it. Instead, I want to watch that woman who went viral on Facebook recently who admitted that she never washes her beauty blender and has been using the same mascara for like, a year... because that's real beauty.
She's a woman I can trust to actually teach me how to apply makeup using her tips and tricks, because she's just trying to put her face on one day at a time like I am. I'm not going anywhere special, and I'm not going to win any awards, but if I can walk out the front door without smudging my attempt at a winged eyeliner, then I'm happy.
By the end of 2017, I predict this specific movement of YouTube beauty tutorial will move seamlessly into the amazing and awe-inspiring world of body painting and costume art. They have now come to represent the fantasy of makeup, and not the reality. And now I've accepted this fact, I'm no longer frustrated whenever my smokey eye doesn't come out my Jaclyn Hill's.
---
Okay, rant over. Tell me in the comments below how you feel about the latest culture of beauty tutorials and lets get it debate opened up!
Save