Has "Rewind" Made YouTube Go Full Mainstream?
11 December 2015, 15:15 | Updated: 17 July 2017, 12:12
The difference between online and offline life barely exists anymore.
2015 was just another year stuffed with memes and global trends, or was it? It could soon be seen as the first year in which the majority of viral content surfaces from platforms other than YouTube.
As is the nature with these memes and viral videos, they never remain in your short-term memory for too long, and it's entirely possible that this is why YouTube Rewind is such a phenomenal success - the overwhelming feeling of nostalgia we gain from watching it.
By now you've probably all see the 2015 YouTube Rewind in all its glory; you've laughed at the double rainbow, sang along to The Weekend and started crying at the Markiplier cameo. But when the likes of Grace Helbig and James Corden, or even Jenna Marbles and Jon Oliver, co-exist in the same annual celebration, it begs the question of whether this content belongs exclusively to the Internet space anymore.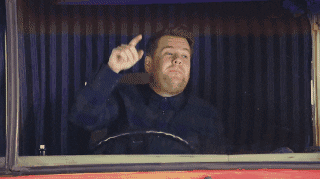 We would forgive our parents for not recognising SMOSH or Joe Sugg, but what you can guarantee they will spot are the big news-worthy memes from the Super Bowl or The Late Late Show such as Carpool Karaoke and Left Shark.
These cultural phenomenons did not arise from YouTube's video platform, but instead made their way to dedicated channels through reaction videos, vlogs or repurposed content. And once they get uploaded, they can skyrocket through the Trending Charts across Twitter or Facebook to those who missed it on TV the first time round.
Based on the modern ideal of 'everyone connected, everyone consuming', its hard to keep YouTube specific content within the hands of the hardcore Internet fandoms. In fact, YouTube's Head of Culture said that because of the nature of sharing and becoming involved with the distribution of viral content, the line between mainstream culture and YouTube culture is 'almost nonexistent' in 2015.
With this in mind, it's interesting to go into next year remembering how memes and viral videos come to exist. Why did Left Shark get so bizarrely famous when it was stood next to the likes of Katy Perry? What will be the next poorly-drawn meme to overthrow Pepe and his Tumblr reign? But most importantly for us at We The Unicorns, will anymore of our faves continue to break down their labels of 'YouTube Celebrity'?