VOTE: Which Of These YouTuber Tattoos Are The Best?
18 May 2016, 15:23 | Updated: 17 October 2017, 09:41
These are massively making us want some ink.
YouTubers are highly skilled at many things; uploading unmissable content, living killer lifestyles and making people like me and you very very jealous. However, one thing YouTubers seem to know how to do best is ink up their bods with the most beautiful and eye-catching tattoos we've ever seen. So let's have a little competition here...
Below we've rounded up all of our favourite YouTuber tattoos and presented them to you to make sure you can answer one very simple question for us... which YouTuber do YOU think has the best tattoos?! Scroll through the list of nominations and take part in the poll at the bottom of the article - make sure your senpai notices you!
---
PewDiePie's first tattoo is this interesting number up on his bicep inspired by artist Gary Baseman.
Charles Trippy has too many tattoos to chose from, but this astronaut on his forearm is easily our favourite. Is it yours?
Jonathan Saccone-Joly recently got this tattoo to commemorate him and Anna losing their third child mid-pregnancy. He calls it his Squid.
Leda Muir is one of the most heavily tattooed YouTubers, with pieces inspired by Studio Ghibli, Lord f The Rings and Black Butler - but we literally cannot just choose one favourite.
Onision is famed for his wrist tattoo so much so that he even takes the mick out of them himself.
Hannah Hart's cheeky little chest tattoo is a simple yet honest reminder of her career as a YouTube influencer. At this point, we feel this Play and Pause button style tattoo should be had by everyone!
Tyler Oakley got his very first tattoo... with Queen Jackie! But even though it was his first, he didn't go for a small one, choosing instead to get a giant owl on his forearm.
Claire Marshall is another heavily tattooed YouTuber, who decided to make this Tattoo Round-Up video after her fans were begging to see them all.
Emma Blackery has this simple Legends of Zelda tattoo on her wrist and honestly, we want it so badly.
Estee LaLonde got his GORGEOUS line tattoo on her arm not too long ago. We immediately want one ourselves.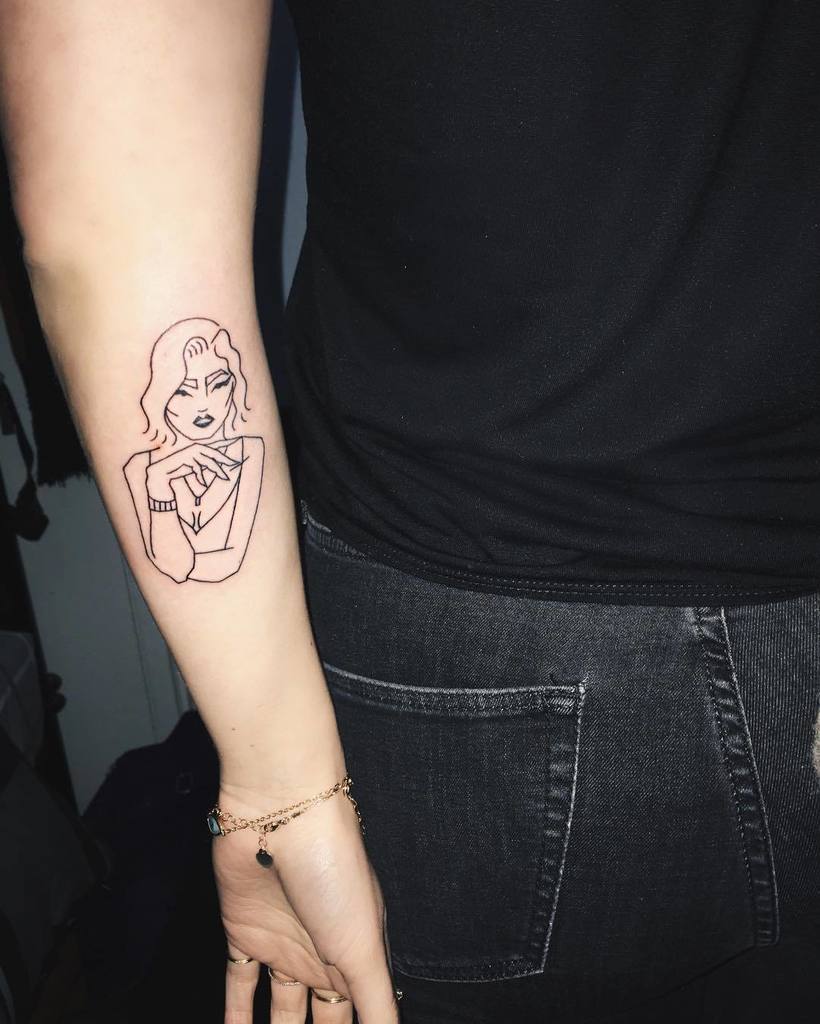 Marzia Bisognin is covered in tattoos - but not in the way you expect. Each of her limbs seem to be scattered in very tiny, very simple tattoos of little memories and meanings, which we absolutely adore.
Olan Rogers has these roman numerials on his bicep that translate to '9 4 2', which according to the Internet are the dates he got saved and accepted Jesus into his life. How interesting!
If Lilly Singh was going to have a tattoo, obviously it was going to be as beautiful and meaningful as this. Obviously!
Helen Anderson is a rock goddess and a tattoo queen - and in this video you can find out about it all, including all her piercings!
Kian Lawley got his first tattoo of a geometric feather on his forearm - love it or hate it, but you think it's the best?
Grav3yardgirl is beloved on YouTube for being quirky and away from the norm, and her tattoos 100% signify this too. Check out this round-up video:
The last YouTuber in our list is InTheFrow, who is probably the last person you'd expect to be covered in ink artwork. However, just looking at the thumbnail of this Tattoo Q&A; video, you can tell that Victoria has some serious style when it comes to body art!
---
So, now you've seen the best YouTuber tattoos we could dig up - but which one do YOU think is the best?! Vote in our poll below and let your voice be heard.