5 Times YouTubers Owned Their Flaws And Inspired The Hell Out Of Us
17 June 2016, 11:26 | Updated: 17 July 2017, 12:17
Let's look back to when these YouTuber were honest with us about themselves - and made us love them even more
1. Dan Howell Knows Who He Is And Accepts Who He Is
And we respect that. Dan has always been brutally honest about exactly the kind of person he is (a human version of Winnie The Pooh mostly)
2. Charlie McDonnell Is who He Is
And he doesn't try to be someone else. This has always been one of Charlie's greatest strengths as both a creator and a human being. When you watch his videos, you get the sense that you are watching a real human being and not some kind of online character.
3. Tyler Oakley Has Tons Of Self Confidence
In fact, if you do a quick google search:
Just Kidding - that's photoshop ;) Aside from the fact that we totally fooled you just then, it is also true that Tyler has in fact opened up very honestly about his shortcomings. In fact, his flaws feature heavily in his recent book 'Binge'. Shane Dawson has even commented that Tyler is impossible to insult, because he's always too quick to insult himself first. This is part of the down-to-earth appeal that has made him an online superstar.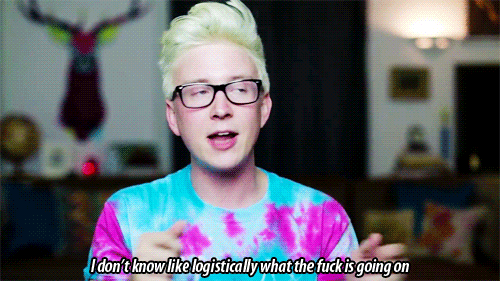 4. Zoella Has No Fear About Seen Without Makeup
To be clear - we are in no way implying that no wearing makeup is a 'flaw', but in this often very judgemental world (especially for young women) it is inspiring and empowering to see someone as famous as Zoella being upfront about the fact she is human and naturally therefore has imperfections.
5. Chris Kendall's Rawness
Chris Kendall is a very, very funny person - but he is also capable of being incredibly raw and honest. This can sometimes create curious situations where the audience is genuinely not sure if he is joking or not - and, even more intriguingly, you can see that neither can he. Take, for example, this video, which is ultimately about Chris saying that he feels lonely and opening up about his love life. Chris constantly switches (in a matter of split-seconds) between joking and being deadly serious, but it's apparent behind it all that Chris is ultimately opening up a lot. It's one of the reasons why Chris is one of the absolute best people on YouTube:
He goes even deeper into this joking vs. serious situation in this very insightful (yet still funny) video: