Anna Saccone-Joly Opens Up About Her Emotional Post-Miscarriage Mental Health
12 July 2016, 15:59 | Updated: 17 October 2017, 09:43
Anna admits to going through a very rough period.
Fans of the Saccone-Joly YouTube channel may have noticed that not only has Anna taken a back seat to appearing in their daily vlogs, but she's also massively slowed down the production of the independent videos on her own channel, TheStyleDiet. Previously, Anna had never addressed this change in schedule, but in a candid moment between herself and Jonathan in a new vlog, Anna reveals more about her current mental health.
After sharing with fans that the couple were about to hit their 5-year wedding anniversary, Jonathan tells Anna that everyone has been leaving comments on their videos saying how much they miss Anna. In response, she opens up a very personal discussion about how her "mental health is more important" than continuing with YouTube content on a regular basis; "I just feel like, after the miscarriage, I jumped back into everything really fast and I probably shouldn't have".
After the Saccone-Joly's publicly announced the arrival and miscarriage of their third child, Jonathan encouraged fans to start trends on Twitter and YouTube comments reminding Anna of their love for her as she went through such a tough time. However, whilst the fan support helped significantly, Anna still felt as thought she "should not have jumped back on" to social media and "opened myself up to so much criticism".
In addition to regretting posting so many Instagram images, Anna feels as though she "gave so much and then just got completely attacked at a really vulnerable time", which Jonathan feels only happened because "some people realised that you're vulnerable and then they make it worse for you". So, in conclusion, Anna states very clearly that; "I feel like my mental health is suffering because of [being online] and that's why I'm just like, taking a break". We don't know when Anna will be returning to YouTube, but we send her our love and hope that fans will respect her choice for privacy.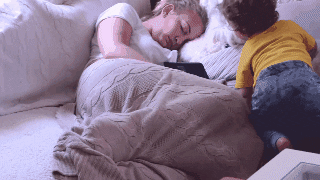 Want to know if any other YouTubers have spoke about their mental health this week? Check out our weekly episodes of SLAY or NAY - the only place on the Internet that rounds up all the news and gossip stories you're interested in and sends it straight to your YouTube subscription box! You're welcome folks.