Anna Saccone-Joly Has Quit YouTube And Here's Why
19 July 2016, 15:04 | Updated: 17 October 2017, 09:43
"Don't ever let someone tell you that your mental health doesn't matter."
After some of the most emotional months any mother could go through, Anna Saccone-Joly has addressed her absence from YouTube in one of the most emotional videos we've ever seen. Over 30-minutes of tears and a personal recollection of the darkest days in her life, Anna opens up about her eating disorders, 24/7 body shaming and the real reason why she decided to quit YouTube.
As we reported in a news article a little while ago, Anna seemed ready to start discussing her mental health and why she has seemingly quit YouTube with fans of the Saccone-Joly channel in a vlog with Jonathan. In this brand new video on her own channel, Anna starts by saying that she believes "it's the right time [to have this conversation] and there's a chance [she] could help people". From here, we find out that when Anna was 15-years-old, she has suffered from bulimia.
Throughout her teenage years and up until the death of her father when she was only 21-years-old, Anna admits to forcing herself to throw up "as much as five times a day" as she felt like her body and mental health were totally out of her control. Her early-twenties were the "lowest point in [her] entire life" until she got married to Jonathan and embarked on family life, even though it didn't last long.
One of the saddest moments of Anna's video is surrounding the topic of her motherhood. She states that the only time she loved her body and stopped purging was when she was pregnant or breastfeeding with Emelia or Eduardo as it gave her body a "purpose" but as soon as these periods were over, the eating disorder would come back. After she spent time with a therapist and felt she had "fully recovered", the Saccone-Joly's decided to have baby number three, which sadly ended with a miscarriage sending Anna back to square one.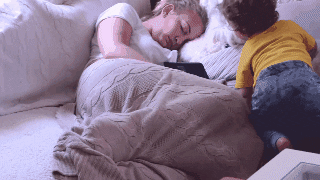 Since the miscarriage, Anna has tried to make content for YouTube but says that all she received from viewers were "body shaming and fat shaming comments" which were the worst things for her mental health to hear. So, for this singular reason, Anna will be taking a break from the Internet because her "mental health is extremely important" and it's vital for her life as a mother to recover.