Daniel Howell Announces He Is No Longer Not On Fire
2 May 2017, 15:00 | Updated: 17 July 2017, 12:25
Dan has shocked fans by announcing that he is dropping the fiery moniker that has followed him throughout his illustrious career .
It's finally happened folks - Dan Howell has dropped the name 'danisnotonfire', a name to which he has shown almost nothing but contempt since basically the moment of its conception. But why you ask? Oh don't worry, there's a whole video explaining why.
Dan broke the news about ditching "danisnotonfire" in the video below:
Dan states that he is retiring the infamous username after its many years of beloved service for mostly practical reasons: "I have found, over the years, that being known by this online name has some issues", he states. He talks about how it is an outdated relic of his younger years and a constant source of embarrassment. However he says that, ultimately, the main problem is that "no one knows how to say it or spell it, it's a terrible choice of username."
That being said, he does go on to say that his discomfort about the name may come from his general mood: "I don't know maybe I'm just still recovering from that video I did where I took those quizzes", referring to the video he posted where he took a bunch of silly quizzes, a lot of them from this site.
As well as the username, Dan also stated that the following things do not represent him any more:
Llamas
Malteasers
The term 'danosaurs'
Placenta
Derping
Delia Smith
He asked fans (or Phans, if you will) to place these in-jokes in a "treasured memories box" and then lock it tight. He says that he will now be known as 'Daniel Howell' because he likes the ring of it. But he closes out by saying that he will "always be" danisnotonfire, partly in a spiritual sense - but also because he can't change his YouTube username. Goodnight, sweet prince.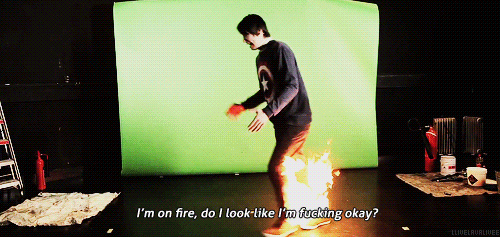 ---
And for all the latest news from the online community, check out the latest episode of 'YouTuber News', right here: