Dodie Clark Accepted Her Shorty Award In The Most Dodie Way Possible
24 April 2017, 09:48 | Updated: 17 October 2017, 09:47
You go Dodie!! ?
Sunday 23rd April marked the ninth annual Shorty Awards which is a ceremony dedicated to honouring "the best of social media", both in front of the screen and behind it. To mark the special occasion, a certain Dodie Clark flew to New York City just for the event and ended up stealing the show and picking up her Shorty Award in the funniest way possible...
Dodie's Snapchat sees the singer songwriter getting seriously buzzed about her upcoming nomination. But when she finally finds out she has won the Shorty Award for "YouTube Musician Of The Year", Dodie rises from the table like a glorious gazelle... and then falls down to the floor in the goofy way only she could.
You can see Dodie taking a trip on her way to pick up her Shorty Award in the video below:
@doddleoddle @softhydrangeas IM SORRY YOU FELL BUT IT WAS ON THE DROP OF THE SONG pic.twitter.com/lxRF2aBHHM

— lindsay (@gracefulphilip) April 24, 2017
When she finally reaches the stage, she recites a gorgeous poem before returning to her table with pal and fellow Award winner Thomas Sanders. She shared the news of her success on Twitter by saying that "omg I fell over in front of everyone but I WON OMG THANK YOU THANK YOU [sic]". There's truly a reason why Dodie's taking over the world, and we're behind her every stumble along the way.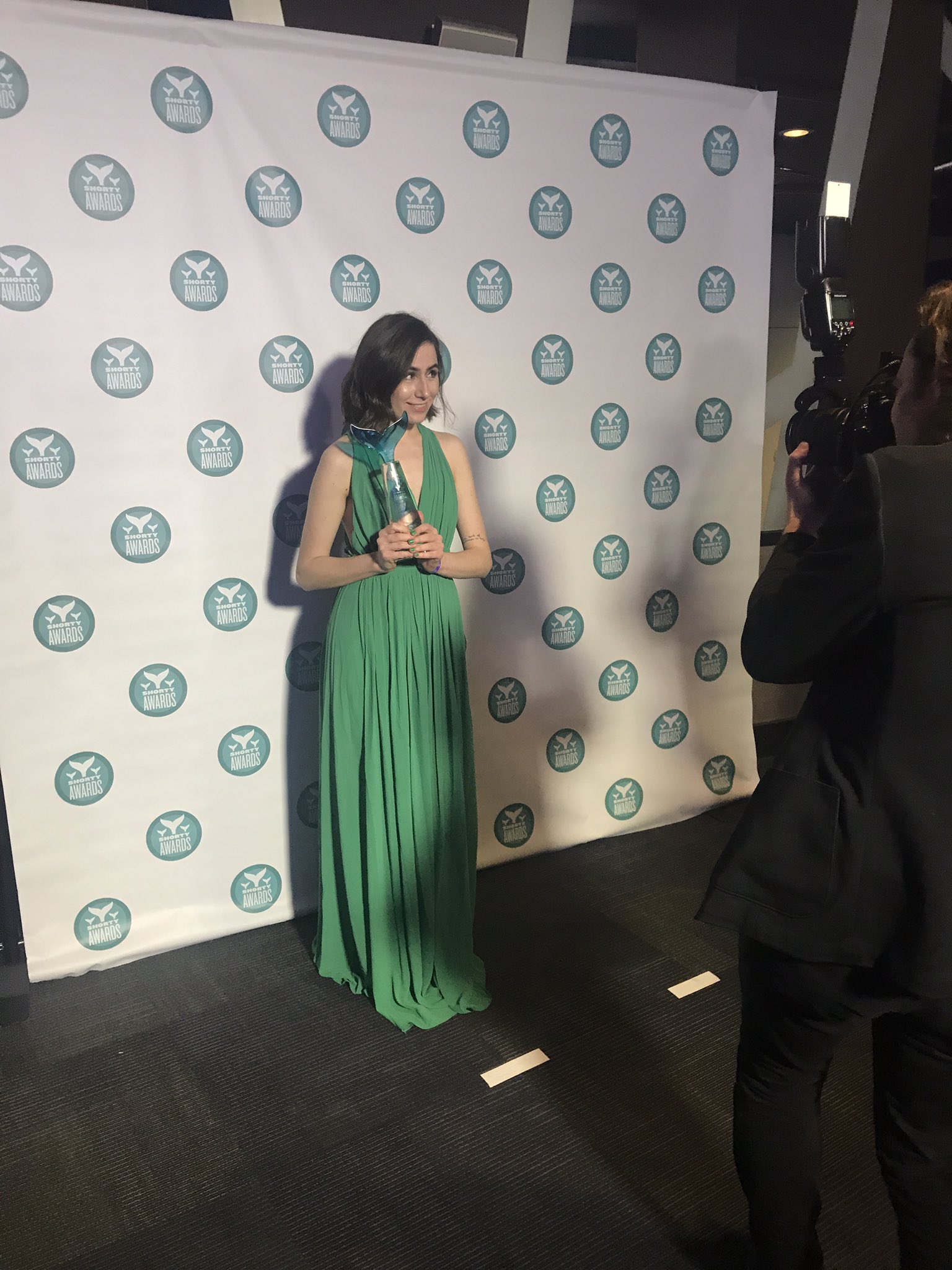 ---
Oh, and if you want to know who else scooped up an award, here's the entire list of anyone who's anything to do with the YouTube community! Congrats, you beautiful bunch. ?
Comedy: Elijah & Christine
Best Vine: The Laughing Fox
Breakout YouTuber: James Charles
Muser OTY: Lisa and Lena
Viner OTY (last one ever!): Kenny Knox
YouTube Comedian: Thomas Sanders
YouTube Ensemble: Jenna & Julien
YouTube Guru: Nikkie Tutorials
YouTube Musician: Dodie Clark
YouTuber OTY: Gigi Gorgeous
Gaming: Markiplier
LGBTQ+ YouTube Channel: Shannon Beveridge
Vlogger OTY: David Dobrik
Weird: Hydraulic Press Channel
Web Series: The Tyler Oakley Show
If you want to see anymore winners from other categories, just head over to their official website!
---
And for all the latest news from the online community, check out the latest episode of 'YouTuber News', right here:
Save