Avoid FOMO; Live Stream Coachella ALL This Weekend
12 April 2016, 11:32 | Updated: 17 July 2017, 12:15
Unpack that suitcase and climb back into bed - you're welcome for the tip.
Don't worry if this weekend (April 15th-17th) you're going to be sat at home doing absolutely nothing of note in the history of Planet Earth, because once again YouTube is going to be your BFF. So click away from the Joe Sugg video and maybe only do one more of our world-famous quizzes, as the entire Coachella festival is being live-streamed this weekend!
Kicking off on Friday the 15th of April at 6.30pm ET (or 3.30 PT), audiences at home will be able to watch all their favourite artists perform regardless of where they are in the world. Whilst no streaming schedule has been posted as of yet, it's guaranteed that fans will be able to tune into musical performances from LCD Soundsystem, Ellie Goulding, Sia and even a cheeky reunion from Guns N' Roses.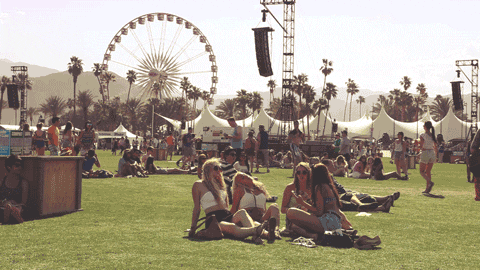 Back again for 2016, the Coachella live-stream will take place over three separate channels from it's multiple stages and unmissable celebrity interviews - but this time with a twist. The Coachella broadcast schedule is allowing users to totally customise their viewing preferences by letting them preselect their favourite artists, meaning that when they start performing, the channels will automatically be switched over. This means you won't miss a SINGLE BEAT of your favourite artist.
The festival will be taking place over three days with dozens of YouTubers already flocking to the sunniest, most glamorous music party in the world. So far Oli White, Joe Sugg, ViviannaDoesMakeup, Samantha Maria, Fleur De Force, Tanya Burr, Lele Pons and Gigi Gorgeous have all tweeted out their excitement about being at Coachella - maybe we'll see them on the live-stream!
So avoid that crippling feeling of FOMO you're trying so desperately to ignore by checking into the Coachella 2016 festival on their official live-stream. The schedule will be announced as we get closer to the debut.