JackSepticEye's Local Newspaper Only Just Realised How Famous He Is And It's Adorable
1 February 2017, 11:52 | Updated: 17 July 2017, 12:23
We're literally melting.
It goes without saying that y'all at home 110% know who JackSepticEye is. This green-haired beaut has been lighting up the YouTube gaming scene for many years now; but it looks like his local newspaper has only just caught whiff of it all. In a new article on the Westmeath Independent, Jack has finally been recognised as the "local gamer" who has now become "a YouTube superstar"... y'know, after he's already hit 14 million subscribers.
First, a geography lesson. Westmeath is a county in Ireland that has Athlone nestled along its west border; and this is the town where Jack calls home! According to the Westmeath Independent and all their local readers, "you might not recognise his name, but Sean McLoughlin is the most internationally famous person currently living in Athlone"; and they're not wrong!
As well as comparing Sean to the likes of Adele, Beyonce, and Ed Sheeran, they also point out that in 24 hours one of his most recent videos got more views than the "most-viewed television programme in Ireland last year, The Late Late Toy Show" (2.2 million>1.4 million). They also point out that "the majority of his YouTube followers - around 60% - are based in the States, while some 4-8% of the subscribers are in Ireland", demonstrating such an adorable level of national pride from a small newspaper.
In addition to complimenting his choice in hair colour and "hyper-energetic personality", the newspaper was also able to get a truly special interview from Sean on the topics of his rise to fame and hopes for the future. He mentions how he thinks that "the Irish in me, and the accent" are what people are "very drawn" to about his YouTube, and the fact that "for the first three years [he] did everything by himself", meaning he would spend "about 9-12 hours a day" dedicating himself to filming and editing videos for his channel.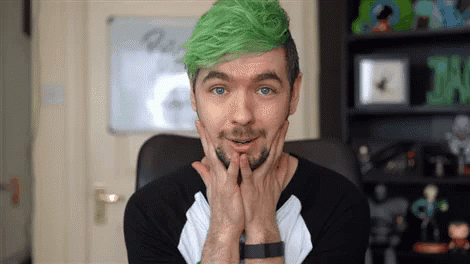 Right at the end of the article, they decide to whack out one hell of a bombshell that must be devastating to local Irish fans - in 2017, Sean plans on moving to Brighton (we assume to join in the Revelmode fun with the likes of PewDiePie and KickThePJ) where he "hopes to work with a voice coach and an acting coach". Does Jack have some big things planned on the horizon?!
Make sure you check out the newspaper and even more of Sean's interview, and make sure you leave a lush comment. We're literally melting over all of this.