PewDiePie Goes On Hilarious Rant At Fans Who Flag His Videos
27 June 2016, 13:46 | Updated: 17 July 2017, 12:17
He went in hard.
It's pretty common knowledge that a PewDiePie video is going to be anything but clean. The Swedish YouTube star is a fan of the four letter word, it's pretty safe to say, which is no doubt part of the appeal and charm for many. However, it seems rather a lot of people are pretty angry about his behaviour and have taken to flagging his videos which leaves them at risk of vanishing from YouTube forever.
The YouTuber, who has amassed over 45 million subscribers and is officially the most famous man on YouTube, pleaded with fans in a hilarious sketch at the start of a video called "Worst Game On The Planet" which has since had nearly 3 million views to date.
In the video, Pewds - AKA Felix - tells fans to stop being a "bunch of p*ssies... Oh, this video had blood in it! Oh this video had nipples in it! Oh this video was a little too sexual..." and so on. Of course, Felix adores his fans and his rant had us in stitches but we couldn't help agree with point.
Whilst PewDiePie makes a joke of the fact he doesn't get any money from videos which are flagged and the fact he "isn't a charity", it raises a valid point over self censorship. To put it simply, most people know the type of language and topics discussed in PewDiePie's videos and if you don't like said things then you simply don't have to watch them.
It's been a fairly rough time for Felix as he recently revealed he was thrown out of his Brighton apartment, which he uses as a studio, after residents complained of him making too much noise. Despite the fact the gaming star had put things in place to minimise noise, it seemingly wasn't good enough. However, the drama didn't stop there- PewDiePie's landlord clearly didn't know who he was renting his apartment to and came round to the flat, called PewDiePie a homophobic name and accused him of having a lot of gay sex. Yes, you read that right.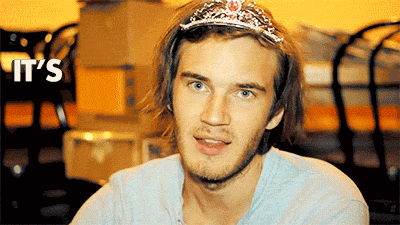 Of course, Felix took it all with a pinch of salt and has carried on uploading daily much to our delight.
Want to you think of his flagging rant? Let us know in the comments below.