These Pro-Trump YouTubers Were Allegedly Paid By His Campaign
11 August 2017, 16:50 | Updated: 6 November 2017, 09:42
A recent investigation reveals that pro-Trump vloggers Diamond and Silk may have been quietly paid for appearances during his election campaign.
A recent investigation has revealed that two YouTube creators who post pro-Trump video content may have been paid by the President's campaign. Gizmodo reports that Lynnette Hardaway and Rochelle Richardson - aka "Diamond and Silk" - recently visited the US Commerce Department to "discuss how to grow their business and build their brand."
Diamond and Silk are also currently dealing with their YouTube videos being demonetised.
It appears that @YouTube is trying to determine what people can & cannot see & hear by removing debate, diversity & a difference of opinion pic.twitter.com/XNcrTeYZEF

— Diamond and Silk® (@DiamondandSilk) August 10, 2017
Amongst other right-wing YouTube personalities who claim that they are no longer allowed to place ads next to their videos, Diamond and Silk have accused YouTube of censorship. Their channel focuses on vocal and unwavering support of the 45th President of the United States.
Diamond and Silk appeared in a since-deleted Tweet from the Commerce Department.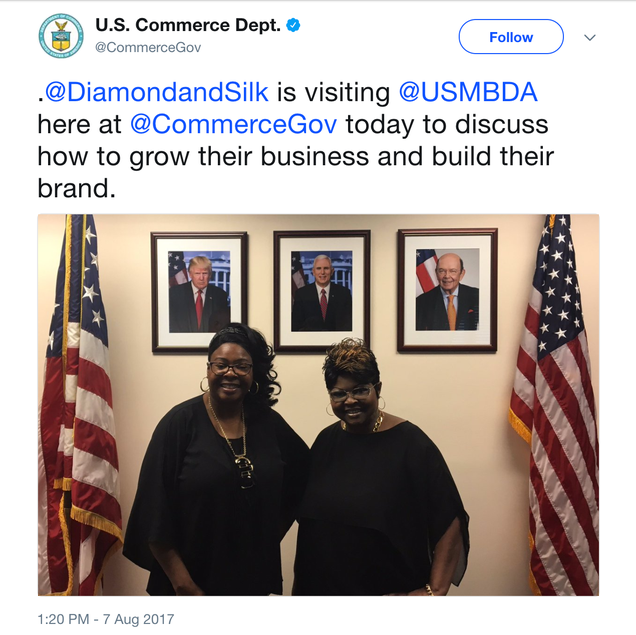 Gizmodo
A spokesperson later said the tweet had been deleted "out of caution", but declined to elaborate on how they had discussed "building their brand".
The duo have appeared on Fox News multiple times, as well as appearing on the campaign trail prior to Trump's election in November 2016. The campaign denied paying Hardaway and Richardson for these appearances; but an amendment to the campaign's FEC report stipulates a mere sum of $1,274.94 went to the pair shortly after the election for "field consulting".
There's no denying the value that these creators have to a campaign as divisive as Trump's - two older black women seen praising the President can be seen as a major benefit while the country's racial inequality issues grow wider.
---
Also, have you heard? We have a new book!
'Vlogging 101: The Ultimate Guide to Becoming a YouTuber' is coming out on 10th August; and is available for preorder now. So find out more in the video below!