The World's First Transgender Doll Was Inspired By A YouTuber
22 February 2017, 12:24 | Updated: 17 July 2017, 12:24
We want one!!
If you've not been following the extraordinarily inspiring story of Jazz Jennings, then consider this moment your wake-up call. After "coming out" aged five at her own birthday party, Jazz has spent her entire life advocating for the rights of transgender child and teens; and in 2017, she has become the inspiration for the world's first transgender doll!
The 16-year-old YouTuber and star of the TLC show, I Am Jazz, is finally getting the representation she dreamed of as a child, having not seen anything "like her" in the doll section of stores as a kid. The toy, created by the Tonnor Doll Company, was debuted at the New York Toy Fair on February 18th. It will be available for purchase in July 2017 for $89.99.
At reportedly 18-inches in size, the toy has been created in Jazz's likeness and can be bought wearing the exact same jean shorts and pink top seen on the cover of her memoir, Being Jazz: My Life As A (Transgender) Teen. Additional sweaters, dresses and skirts will also be available to buy, should you want to dress Jazz in a wide variety of beautiful clothing.
Jazz announced her inspirational new project over on her Instagram by clarifying what a "transgender doll" meant:
For those asking, the doll is considered to be the first 'transgender' doll because it's based on an individual who is trans. Of course it is still just a regular girl doll because that's exactly what I am: a regular girl... I hope that it can place transgender people in a positive light by showing that we are just like all other people.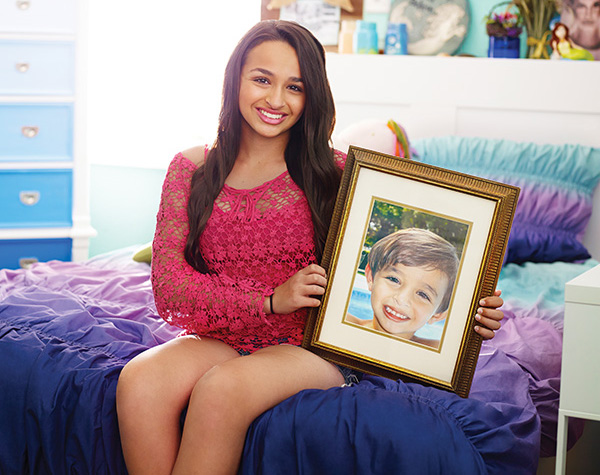 Keep your eyes peeled to the Tonnor Doll Company's website later on this year to get your hands on Jazz's inspirational new creation.
Also, congrats to Jazz for coming out as pansexual only a few days ago too - what a busy week!