"YouTube Is Built On Stolen Content": Trent Reznor Speaks Out
16 June 2016, 15:20 | Updated: 17 July 2017, 12:17
The Nine Inch Nails frontman has some STRONG words to say about how YouTube has grown, as the debate between the site and the music industry rages on.
It's no secret that in its early days, YouTube struggled in dealing with copyrighted content - but now, popular voices in the music industry are using this as fuel for the fire in their never-ending battle against the site.
Nine Inch Nails frontman and Apple Music chief creative officer Trent Reznor has weighed into the debate, claiming he finds the business "to be very disingenuous".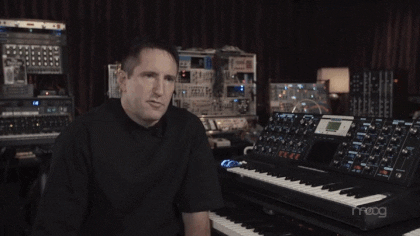 Speaking to Billboard in an interview, Reznor brought up the very valid and growing concern amongst all musicians: that music has become a product that "for a variety of reasons, is one that people feel we don't need to pay for anymore". His involvement in Apple Music has been a way to evolve with the rising tide of streaming - but that hasn't stopped him and many other artists from pointing the finger at YouTube.
"[YouTube] is built on the backs of free, stolen content and that's how they got that big," he explains. "I think any free-tiered service is not fair. It's making their numbers and getting them a big IPO and it is built on the back of my work and that of my peers."
Reznor's comments are just the latest in a long line of criticism from artists such as Radiohead, Katy Perry and Christina Aguilera - all of whom have signed a petition to overturn the Digital Millennium Copyright Act, which protects online users who share copyrighted content.
But YouTube aren't taking the criticism lying down - and issued a statement in response that supports their co-operation with musicians and their record labels, while defending the sharing of copyrighted content.
"The overwhelming majority of labels and publishers have licensing agreements in place with YouTube to leave fan videos up on the platform and earn revenue from them," stated a spokesperson. "Today the revenue from fan uploaded content accounts for roughly 50 percent of the music industry's YouTube revenue."
"Any assertion that this content is largely unlicensed is false. To date, we have paid out over $3 billion to the music industry – and that number is growing year on year."
What do you think - Are Trent Reznor's comments a fair criticism on how YouTube has developed? Let us know in the poll below and with your comments.