Does This Prove That A HUGE YouTuber Is Entering The Big Brother House This Month?
24 July 2017, 15:30 | Updated: 6 November 2017, 09:41
if you can think of a more perfect YouTuber to enter the Big Brother house, we'd like to hear it because frankly this is an inspired choice
Now take this news with a pinch of salt - but, like, a very, very small pinch. The tiniest of pinches. We have seen some pretty compelling evidence that YouTube's favourite vlogger slash musician slash crying-on-the-floor YouTuber Trisha Paytas will be entering the UK Celebrity Big Brother house this summer. Get hyped.
---
Let's review the evidence
There are several pieces of evidence that point towards Trisha entering the CBB house. First of all, she has been hinting heavily in recent videos that she will be taking a trip somewhere soon, though she's hazy about where. One of her doctors also explicitly mentioned Trisha entering CBB in a social media post, before quickly editing it to remove the evidence. Spicy stuff. If this is true, we could see Trisha strolling into the house this very month, as Celebrity Big Brother is set to start at the beginning of August.
On top of this is the fact that Trisha is perhaps the most perfect Big Brother candidate in human history. Seriously, it's like she was grown in a lab by a group of scientists determined on creating the most perfect Big Brother candidate possible. She's bold, brassy, dramatic, fiercely individualistic and - perhaps most importantly from a cynical producer's point of view - is known for her rather spectacular crying fits.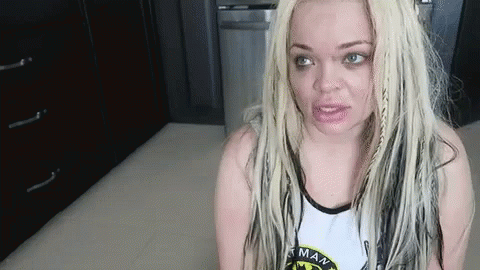 Are you hyped to see Trisha in the Celebrity Big Brother house? Do you believe it will happen? What do you think she is likely to do once she's inside? If you're not a fan of Trisha, what YouTuber would you like to see enter the CBB House instead? Let us know in the comments below, or on our Facebook page. And hey, have a great day.
---
And make sure to check out our brand new book 'World Of YouTube', which is out now!