Zalfie Ask For Privacy On Holiday After Fans Track Down Their Hotel
27 June 2016, 10:14 | Updated: 6 November 2017, 09:35
We couldn't be more angry that this is happening again.
We're struggling here to say anything other than "stop" but yet again Zoe Sugg and Alfie Deyes are facing further privacy problems at the hands of fans. The couple, who have amassed a global empire thanks to their YouTube success, are currently enjoying a much needed break but have had to tell fans to stop tracking down their holiday apartment and invading their privacy.
In a series of tweets, Alfie spoke about an incident where fans had climbed into his private room for snaps:
Just a heads up incase you're thinking of coming to our hotel to meet us. We're on a family holiday relaxing. We're not here for a meet up x

— Alfie Deyes (@PointlessBlog) June 25, 2016
I dedicate so much of my time traveling to meet you all, but this trip isn't for that. It's a holiday to relax with my family x

— Alfie Deyes (@PointlessBlog) June 25, 2016
Hope you understand x

— Alfie Deyes (@PointlessBlog) June 25, 2016
P.s saying this because we've already had people climb round into our private room for photos..

— Alfie Deyes (@PointlessBlog) June 25, 2016
Despite the fact that Alfie, Zoe and their family have been sharing Snapchats and Instagram photos, it seems some fans are desperate to go further and have somehow managed to track down the hotel in order to take photos with their YouTube faves.
Pool vibes ☀️ pic.twitter.com/nB1o97oDRx

— Alfie Deyes (@PointlessBlog) June 25, 2016
Of course, this isn't the first time YouTube's power couple have faced security issues. At the end of 2015, the couple had to speak out after fans were turning up at their Brighton home. The pair asked fans to stop turning up at their home and ringing their doorbell- something Zoe also faced when she lived alone in her seafront flat.
Matters were made worse when a local Brighton newspaper printed Zoe and Alfie's exact address, causing more people to turn up at their home. Despite this, things didn't stop and this year Alfie tweeted his anger after a Brighton tour company were taking fans of the pair to the Zalfie pad.
We've wrote extensively on the site about the importance of respecting privacy of YouTubers and we have to admit that even we were surprised to see people were tracking down the pair on holiday. Despite the fact both Alfie and Zoe are more than happy to take photos with fans when meeting them at events or even whilst doing everyday things in Brighton, it seems for some fans this isn't enough. As the lines between YouTuber and celebrity become even more blurred, we need to make one thing clear and that's the fact the everyone deserves respect and to feel safe in their environment.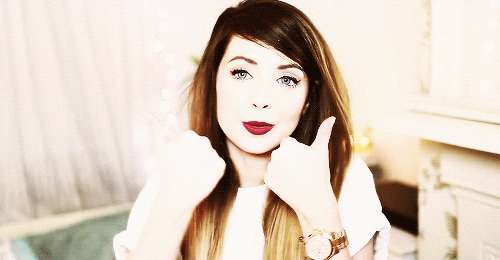 What do you think? Let us know in the comments below.