Zoella Teams Up With The BFG To Share Her Dream Jar
18 July 2016, 11:04 | Updated: 17 October 2017, 09:43
Will you be taking on the challenge?
In case you didn't know already, there's a brand new movie coming out this summer that's set to be our favourite film of all time - The BFG. However, in addition to being the hottest flick of the year, the movie has teamed up with a children's charity and a bunch of celebrities to launch The BFG Dream Jar Trail all across the city of London. Oh, and Zoella is involved too!
In collaboration with Save The Children, Zoella and the likes of Niall Horan, Professor Steven Hawking and The Duchess of Cornwall have scattered their "dream jars" around London throughout July for the movie's release. After the hunt is finished, each dream jar will be auctioned off and all the proceeds will go back into charity to provide support for children's rights, protection, hunger, health, poverty, education and emergencies.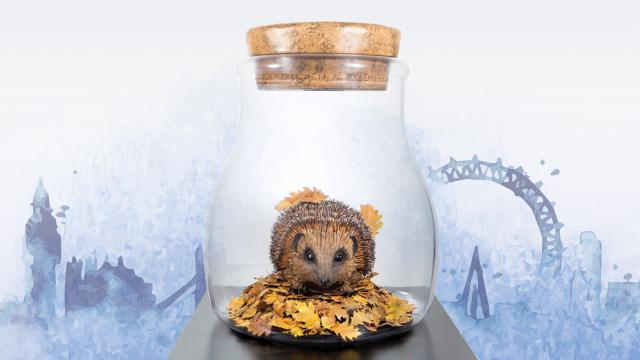 Obviously, of all the people involved with The BFG Dream Jar Trail, we're too excited to see YouTube star and millennial icon Zoe Sugg getting involved with such a selfless cause. Her Dream Jar, called 'For the Love of the Hedgehog', can be found to the east of London's City Hall; "I have a dream where I'm working in a little hedgehog sanctuary, caring for the animals and keeping them safe. Save The Children are so important because they care for vulnerable children - giving them sanctuary and protecting their dreams",
So far, 32 of the Dream Jars have had their location revealed, with the other 18 being announced later on in the summer to celebrate Roald Dahl's 100th birthday. You can see more about the Dream Jars in the promo video below, which features another exciting addition to the trail - Sir Steven Spielberg! Which Jar are you most excited about finding? Let us know in the comments below.
Want to know if any other YouTubers have been involved with charity events in the past week? Check out our weekly episodes of SLAY or NAY -  the only place on the Internet that rounds up all the news and gossip that you care about from the YouTube community, and squishes it into a handy little video. And if you subscribe to our YouTube channel, you can have the news sent straight to your inbox every single Tuesday! We're so good to you...