We Bet You Forgot These 10 Facts About Dan Howell
10 June 2016, 12:03 | Updated: 17 July 2017, 12:16
10 Dan Howell Facts That Will Make You Wish You Were Delia Smith
This obscure cute AF brit boy from the Internet goes by the name Dan. He also has a friend called Phil and has quite possibly the best fan base ever. Lets be honest here, you all know Dan and you all love Dan but here are 10 more facts about Dan that will make you love him even more.
1.) He blames his posh voice on watching too much Winnie The Pooh. The ultimate British first world problem.  
2.) He owns an Edward Cullen mask as well as a Delia Smith one. Don't we all? A true necessity for late night Vampire style baking. 
3.) Dan and Louise Pentland's friendship is based on their amazing ability to pick up on each other's incredibly awkward moments. Friendship goals! 
4.) He went to the University of Manchester to study law, but dropped out to make videos after one year (and we are so happy that he did).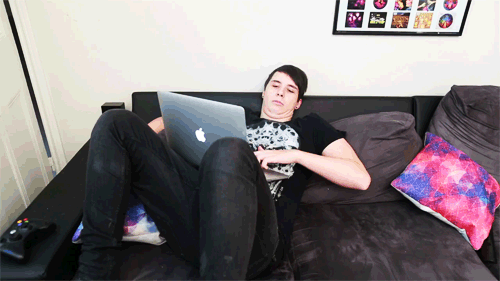 5.) He says literally a lot. Literally. Like, literally. 
6.) He used to have a hamster called Suki. No, he wasn't a big fan of posh Burberry models he just thought the name sounded "cool and Asian". 
7.) Until Dan was about 8 he was actually blonde. We honestly can't imagine Dan without his signature dark floppy fringe. 
8.) Dan is afraid of the dark. The fear of what hides in the dark has lead to Dan create a unique evening routine, which consists of closing blinds so no monsters can pop out and sprinting down dark hallways. 
9.) He once accidentally touched John Green's butt. He then proceeded to run away when John turned round. 
10.) As a child Dan would sneak onto film sets such as Charlie and The Chocolate Factory as he Dad worked in special effects. 
What is your favourite Dan Howell fact?
Want to catch up with all the latest YouTuber news as gossip? Stick around to watch our award-winning* SLAY or NAY series in which we break down the biggest stories of the week and and cram it into a colourful 51 second clip. Now who else on the planet has service like that?! No-one.