30 Reasons To Celebrate Phil Lester On His 30th Birthday
29 January 2016, 10:33 | Updated: 17 July 2017, 12:13
Happy 30th birthday Phil!!
So it's Phil Lester's birthday on the 30th of January and he's going to be 30. FREAKING THIRTY?! Regardless of when you read this article, we all need to be praising Phil and his incredible life on this Earth. We've found 30 of our favourite Phil moments to highlight this spectacular creature so enjoy!
---
1. We can't get over the tie and glasses combination.
2. Setting fashion trends since 1987.
3. The hat is potentially more famous than Phil himself!
4. "Rawr means I love you in dinosaur!"
5. That's exactly how you make us feel Phil!
6. Oh don't try us Phillip!!
7. I mean, is he wrong about almond milk? We can't tell.
8. Officially our favourite dance move.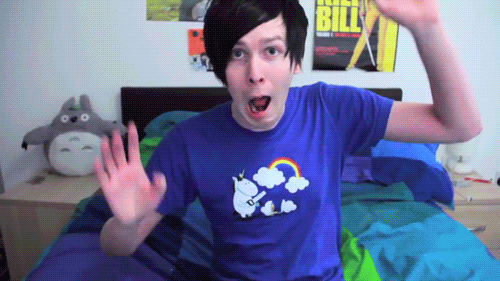 9. Just a hint of Phil's smile is enough to make us happy.
10. I see this GIF in my nightmares.
11. ALERT: FLOWER CROWN PHIL. WE REPEAT: PHIL IS WEARING A FLOWER CROWN.
12. wE DO. WE LOVE YOU A LOT.
13. Oh man that looks so good right now. Damn you Phil.
14. That freaking bed sheet is iconic. Name me a more iconic bed sheet.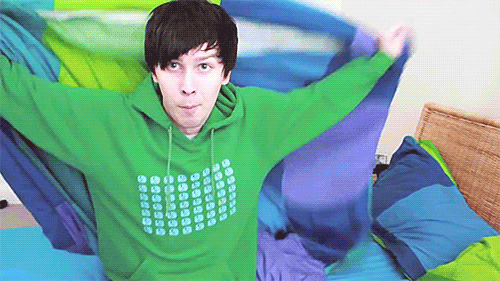 15. Anything to do with Phil deserves two thumbs up, right?
16. What else you got hiding down there Phil?
17. Soulmates.
18. We will use this GIF every chance we get.

19. This is so freaking creepy… are you guys seeing the glitch?!
20. Oh my gawd this is perfect.
21. This gif is as amazing as Phil is.
22. This is 100% Phil's aesthetic.
23. This is amazing!! Kudos to whoever made it!
24. Never take this sentence out of context. We beg you.
25. We stan Phil Lester and Patrick Stump so hard.
26. You loveable, bendable, snapable idiot.
27. Dan and Phil are friendship goals, truly.
28. This is hypnotising. Honestly, just stare at it for me.
29. oH MY LORD MAN YOU'RE 30 NOW.
30. And finally, the shirt of our dreams...