10 Facts We Bet You Forgot About Oli White
28 June 2016, 14:30 | Updated: 17 July 2017, 12:17
Number 10 is hilarious!
There is more to Oli White then cacti/cactuses and pranking Joe Sugg and we have all the facts you need to know or have probably forgotten about Oli White.
1. After being bullied for years at school Oli decided to get his ears pinned back, sadly he admitted that he wouldn't of had the operation if he hadn't of been bullied. 
2. Despite preferring his own company and being much of a football fan Oli loved badminton and even played for his county. 
3. When Oli first started his YouTube channel he kept it a secret as it was an unusual thing to do back then that and a lot of people didn't understand it. 
4. Oli liked to keep his head down at school and focus on learning this resulted in him achieving 6 As, 7 Bs and 1 C.
5. On of his first collabs was was with Jack Harries and Oli thanks him for showing him the what opportunities YouTube can give.
6. Chocolate chip cookies and Haribo was what Oli chose to snack on whilst writing his book, Generation Next
7. Growing up, his biggest fear was getting a detention.
8. He once faked a broken leg.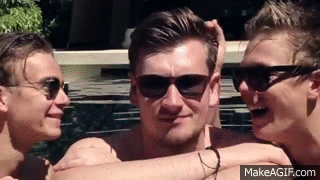 9. He used to work in clothing store Fat Face.
10. Oli once gifted a jacket he hot given for free to Conor Maynard and told him he had bought it for him as a present.
What do you love most about Oli?
Save