Why Haven't These Personalities Got YouTube Channels Yet?
14 September 2015, 16:36 | Updated: 17 July 2017, 12:11
We recently wrote about celebrities who have taken to YouTube and it's a trend we can only imagine will rocket. With already well established brands on social media, everyone from Karlie Kloss to Tom Fletcher is taking to vlogging and using our favourite platform to offer their words of advice and show us their world.
When reality TV took over over 10 years ago, we were all addicted to seeing Jessica Simpson and Kelly Clarkson expose themselves in front of our eyes. These days, we're tuning into daily vlogs and following our favourite web celebs. In order to keep up with the trends and branch their brand out, social influencers are finally realising the power of YouTube.
But there are some that we're surprised haven't started YouTubing yet...
Brooklyn Beckham
Instagram following: 4.3 million
Surprisingly, Brooklyn took a little while to hop on Instagram but since then he's gained millions of followers thanks to ~ arty ~ black and white shots and his posse of celebrity friends. We could genuinely imagine Brooklyn having a vlogging channel where he goes behind the scenes of his mum's fashion empire, gives us a glimpse into life in LA and teaches us a few tricks on his beloved skateboard.
Jourdan Dunn
Instagram following: 1.3 million
One of the most well known super models on the plane, Jourdan has already had more than enough experience in front of the camera; Jourdan even appeared in a cooking video on the Amuse YouTube channel. We think the mother and model would be more than capable of offering up some fitness and beauty tips if she decided to take to YouTube.
Jaden Smith
Instagram following: 1.9 million
Obviously Jaden has his channel where he uploads his music videos (the classic that is Scarface) but he has some pretty ~ interesting ~ views and we'd love him take to YouTube to express them and educate us.
Gigi Hadid
Instagram following: 6 million
She's beautiful, fashionable and has a cat. When she's not flying around the world, she's shooting for Topshop and Balmain. Having already uploaded three videos to her channel over the last two years, we think - to enforce the Gigi brand - she should take a leaf out of Karlie Kloss' book and work on uploading a few vlogs a month. For the fans, they'd get to feel closer to their favourite teenager and it would essentially increase Hadid's worth as a model thanks to a (no doubt) large YouTube following who will flock to every fashion store she mentions.
Caitlyn Jenner
Instagram following: 4.1 million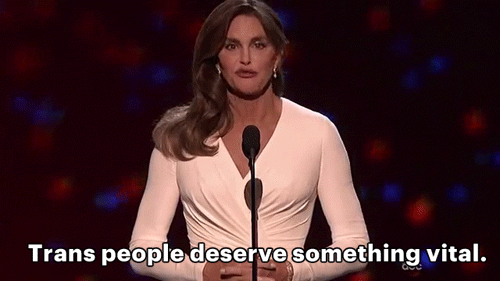 Caitlyn has done nothing but inspire others and flaw even the biggest of critics. Thanks to Keeping Up With The Kardashians and I Am Caitlyn, the former Olympian is used to having a camera in her face at most points in the day. Keeping up with the incredible work Caitlyn is doing to break gender norms, we think a YouTube channel would be a genius next step. From speaking about her personal journey to encouraging others to be who they really are, we think starting a channel would open up Caitlyn's appeal to a much wider audience.