10 Life Lessons From Hannah Hart That Got Way Too Real For Us
17 November 2015, 11:38 | Updated: 17 July 2017, 12:11
We all love "Hannah The Chef" and "Hannah The Philanthropist". But now it's time to fall in love all over again with "Hannah The Life Coach"!
It's been a busy old year for the Hartosexuals, having seen their Queen Bee move kitchen, pick up a love interest and announce her second movie. But what have we learnt from her drunken antics? Well, lots of things, apparently...
LIFE LESSON 1: The World is your Oyster
'Go after whatever you want, because you, by design, are inherently shellfish'
After many sausage based puns, Harto delivered our first life lesson: don't just think about others but take time to think about yourself on Thanksgiving. She then got  sidetracked by crooning to mashed sweet potatoes about how it's ok to change who you want to be...
LIFE LESSON 2: Don't be Afraid of Failure
'You find you may come away a bit burnt, but, eh, who cares!'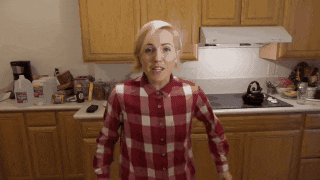 Hidden within the perfect French accent, Hannah drops a massive life lesson -  no one can be perfect. Mind. Blown.
In Hannah's words, just plan ahead to avoid burning, which is ironic based on the amount of times her kitchenware has attacked...
LIFE LESSON 3: Accept the Whole Enchilada
'When you set out to get something done, you must embrace it for all that it is'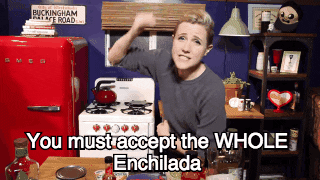 What a beautiful metaphor Hannah! Somehow a thoroughly drunk woman throwing together enchiladas can teach us about our 'malleable flexible nature'. Essentially, regardless of how 'dicey' (CHEESE PUN!) life may be, we must remember that it is part of the process of living to the full!
LIFE LESSON 4: Make the most of what you've got
'We might be single, we might not be ready to mingle, but we ARE ready to Pringle'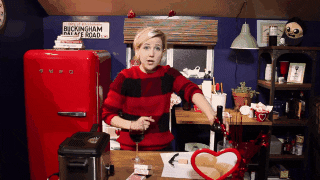 Easily one of the drunkest Kitchen episodes to date. After mourning her lack of adequate pasta-making equipment, Hannah discusses how our own personal limitations can get in the way of love and life… this message is then dampened somewhat when she smashes a wine class and attempts to marry a Pringle. Life goals AF.
LIFE LESSON5: It's better to have complex emotions than to kill somebody
'Don't judge kids for wanting to hug each other'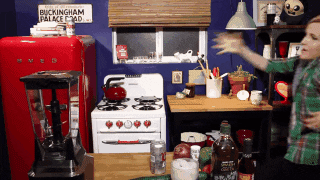 This video gets real serious, real quick. It starts with tomatoes and turns into an emotionally charged rant about gender conformity. What does she suggest? Well, instead of attacking each other, we should be giving each other the right amount of 'encourageMINT' to explore our own personalities… [This powerful statement then gets lost to a belch].
LIFE LESSON 6: Don't overcomplicate things
'Everyone needs Thyme'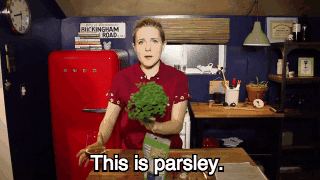 Don't ignore your problems by overcomplicating them! Hannah's advice: find some space to identify the issue, get a dog and evaluate what's really important to you. There some other things about fire and noodles, but mostly that adding copious amounts of cheese will fix almost anything. We totally agree.
LIFE LESSON 7: Be in the pursuit of knowledge
'They say "Curiosity Killed The Cat", but do you know who said that? People who hate cats.'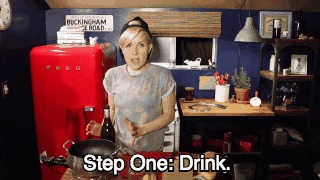 What a sassy little video. Underneath some fondue-based historical facts, Hannah just wants us to have fun with this funny old thing called life and live to your full potential. There's also a reminder of one of Hannah's main life lessons here: Keep adding cheese until everything is resolved.
LIFE LESSON 8: Goodbyes can be bittersweet
'All of us have different processing speeds'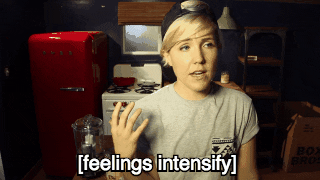 This episode made Hartosexuals everywhere explode -  WAS DRUNK KITCHEN OVER? Alas, it was not. Instead we learnt a great deal about letting go of our bottled emotions to make way for healthy goodbyes. We got emosh when she said goodbye to the oven...
LIFE LESSON 9: Don't wait to say Jell-O'
'Don't remember the old, embrace the new!'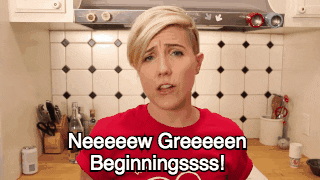 Brand new kitchen!! Top tip about moving to a new house: If you are moving, make sure the only bowl you have is 'multi-purpose-a-bowl'. And if you really want to impress your new neighbours, put your Jell-O in moulds that function as breasts. Hannah's words, not mine.
LIFE LESSON 10: Over-achieving under a budget
'Everybody will have much higher expectations of you, so be prepared to share that burden'
Hannah does a number on us here by showing us how to make cheese and pastry look like fancy dinner food, in the hopes it will teach us not to go overboard to impress others. As long as you make the effort to stay classy, everyone else will fall for it too!