"More Creatures, More Chris Kendall, More Cardboard": KickThePJ Tells Us What To Expect From "Oscar's Hotel"
10 September 2015, 15:05 | Updated: 17 October 2017, 09:39
Summer has been a busy couple of months for a lot of your favourite YouTubers, but none more so than British creator PJ Liguori. On top of maintaining his channel KickThePJ with regular vlogs, sketches and collabs, PJ has also been bouncing back and forth across the Atlantic, as he works on his upcoming webseries: The wacky and wonderful Oscar's Hotel.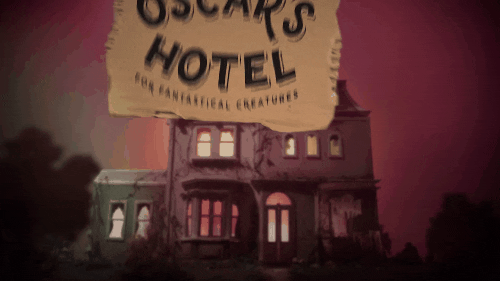 Oscar's Hotel tells the story of Oliver (played by the excellent Chris Kendall), as he temporarily takes over running his uncle Oscar's kooky hotel - which he quickly learns is regularly overrun by some of the weirdest and wildest creatures in the universe.
Starting out as a one-off short film funded by Ron Howard's online media company New Form Digital, Oscar's Hotel has now been expanded into a six-part series, with an all-star cast of YouTubers such as Hannah Hart, Dan & Phil, Anna Akana and PewdiePie, as well as cameos from acting legends Sir Patrick Stewart and Alfred Molina.
The series debuts next week on Vimeo On Demand, a recent initiative from the YouTube rival in monetising their own original content. In the run-up to the series' release, we got a chance to have a chat with PJ; he tells us all about the craziness we can expect from the Oscar's Hotel, how it feels to launch the series on Vimeo instead of YouTube, and "ancient party disco horse demons"...
Hello PJ, how are you?
I'm doing well thanks!
Great to hear it. Now as you know, Oscar's Hotel started out as standalone 10-min short. How easy was the adaptation from short film to full-blown series?
It took a long time to get the story right. Naturally when you scale up a production, you want to go crazy with your story and make something mind blowing. Well, you can make something mind blowing and have the simplest story ever, I've learned. At one point, the plot was so complicated that it gave me actual nightmares. One day, me and my team, Sophie, Louis and Jamie just said "is this too complicated?" and it turned out, it definitely was.
We decided that the core concept of what is so fun about the show is Oliver, played by Chris Kendall, is this one human in a world full of fantastical creatures, so let's play with that. So the plot of the series in it's simplest form is - Oliver, a human, is left to look after his Uncle Oscar's hotel for fantastical creatures whilst he's away on business for a week. The chaos from that snowballs so naturally that it was almost cheating.
You get a chance to play an interesting new character in this series. What can we expect from Wiggles the Clown?
I do indeed! I actually cameo as a few characters. From Wiggles the Clown, you can expect him to unintentionally set off a scarily large chain of events for poor Oliver.
It might be fair to say that most of the independent creative projects you've been working on the past few years have had casts made of mostly friends and fellow YouTubers. With such a big ensemble on this project, was there more of a professional feeling required?
It definitely is fair to say that - this is most definitely the biggest adventure I've ever embarked on. I think there were definitely times where you had to choose when to be professional and make vital decisions, and when it was time to play and have fun. Finding that balance was tricky at first, but when we got into the swing of the production, it came pretty naturally.  
Anyone who follows your Twitter knows that you get into these weirdly fantastical, creature-filled scenarios almost every day. Is Oscar's Hotel based on a real experience? I think if I said that it was based on real experiences, people would call me a big fat liar by the time they've seen Episode #3 (you'll see what I mean when you watch Episode #3). Oscar's Hotel is based on the experiences that I dream of having. I would love to live in a world of crazy magical creatures where your every day life is filled with madness and you can party it up with ancient party disco horse demons. This is why I tell stories. It's also why I'm not supposed to be fed after midnight.  
With the series being released as an On Demand Exclusive on Vimeo, does it feel a little scary to migrate away from the guaranteed audience of YouTube?
The scariest thing about taking it to another platform is it could put off an average viewer even giving it a chance, but I assure anyone who has taken the plunge, or are thinking about purchasing the series, you will not be disappointed. It has the soul and style of a KickthePJ production with more ambition, more creatures, more amazing talent, more Chris Kendall, more cardboard, and more crazy adventures.
Who out of your cast were you more starstruck by: Sir Patrick Stewart or Chris Kendall?
Well, his iconic voice, coupled with his professional acting ability, charismatic looks and the fact that he's admired by so many people make it a no brainer that Chris Kendall was a dream to work with - ha! But seriously, Sir Patrick Stewart was such a pleasure to work with, as was Alfred Molina. They really got into their characters and were just so much fun to direct. I would give Sir Patrick a certain direction for his character, and he would - make it so (I'm so sorry).
Oscar's Hotel debuts on Vimeo On Demand, on Tuesday September 15th. If you can't wait that long, you can watch the original short below.