The Next Generation Of YouTubers You Need To Watch Out For In 2016
12 January 2016, 11:31 | Updated: 17 October 2017, 09:40
Get ahead of the curve!
At the beginning of every year, we like to remember everything we've done, seen and felt over the course of the past 12 months. However the majority of our time is taken up with predictions and resolutions for the future, be they to lose weight, move house or thrill seek.
But here at Unicorns HQ, we're always thinking of you. So in true WTU style, we're about to liven up your subscription box with this one fundamental resolution: Follow these upcoming YouTubers!!
Brendan Jordan [238,586 subs]
Brendan is only 15 years old... Seriously. So his origin story; do you remember seeing that kid absolutely SERVING Gaga vibes live on camera behind a news report? Yup, that's the exact moment that Brendan was skyrocketed to Internet fame. Shared like crazy by drag royalty RuPaul and Pandora Boxx, Brendan officially was an Internet hit. So keep an eye on his YouTube channel as he continues his work with Miley Cyrus, American Apparel and his role in the LGBTQA+ community!
Bretman Rock [412,826 subscribers]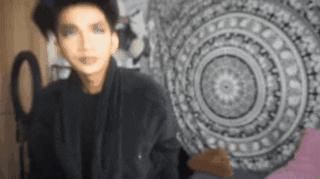 Who says being PC was any fun at all? Thanks to his challenging take on 2016 gender roles, Bretman saw his instagram subs go from 200k to 2.7 million in 2 months. His 'How To Contour' video went viral and the rest of his life was pure history - Bret will be making serious waves in 2016.
Alexis G Zall [830,460 subscribers] 
Proud of her "unapologetically weird" videos, Alexis is making a big name for herself amongst YouTube royalty, with collabs buddies such as Grace Helbig as well as being the co-host of BOMB.COM on Shane Dawson's channel every Sunday. This girl has major BFF's in the 'Tube, so get subscribed!
Franchesca Ramsey [216,425 subscribers]
You may recognise Francesca already from her now famous video 'Sh*t White Girls Say… To Black Girls'. Her CV covers her roles as a comedian, vlogger AND host of MTV's Decoded series, so this lady is going to make big things happen in 2016. We can feeeeel it!
TheThirdPew [353,887 subscribers]
TheThirdPew, or Nathan Z as his mother named him, was responsible for that beautifully shady video response to Nash Grier's 'What Guys Look For In Girls' trash. He's incredibly gif-able and if he doesn't make it to the big leagues on YouTube, we can guarantee his popularity on Tumblr!!
Savannah Brown [202,439 subscribers]
Savannah describes herself as 'liking poetry' and 'talking funny', and we could not be more fascinated by her style and intellectual delivery of YouTube slam poetry! Honestly, this girl is going to make it. Again, this up-and-comer has her own viral video, this one titled 'What Guys Look For In Girls - A Slam Poem', proving again that being spicy over Nash Grier will get everyone's attention.
Jenn Im [1,561,193 subscribers]
"Clothes Encounters is a vlog of style musings, tutorials and lifestyle advice" - we're sold! Jenn's the go-to for fashion advice when we need to hit the highstreet, but most importantly, she dishes out advice on how to love yourself. We all need a bit more love in our lives and Jenn is always one click away from warming our hearts.
Heather Rooney [931,646 subscribers]
Heather is a 'self-taught illustrator specialising in photorealistic coloured pencil drawings'; now if that isn't enough to draw you in, then what the hell is wrong with you?! Her most popular video is a drawing of Daniel Radcliffe that we honestly that was a real human being. Flawless talent. You gotta see it to believe it!
Nikki Blackketter [292,975 subscribers]
Nikki is the fitness guru you need in your life, either to inspire yourself to get out and exercise more or to spark a subconscious desire to become one of the most power female bodybuilders to have ever existed!! As well as having a body to die for, Nikki is a major competitor in fitness competitions around the world. So keep your eyes on this winner both online and offline!