Pewdiepie Is Weirdly Attractive And The Internet Can't Even
25 November 2015, 15:07 | Updated: 17 July 2017, 12:11
Follow us down the rabbit hole as we try to determine exactly why we find Pewdiepie so delicious.
In 2015, people aren't idolising the likes of Brad Pitt and George Clooney anymore. It's all about YouTube stars: how we ship them, how we stalk them, and how we find them strangely attractive. And there's no other YouTuber that confuses our desires quite like Mr Games himself, Pewdiepie.
We did some research into what you guys on the Twittersphere find so desirable about Pewds in order to come to a rational conclusion about our attractions. Let's go!
HE'S FABULOUS.
Omg pewds ? Y U SO FABULOUS ? ?????? @pewdiepie #pewdiepie #fabulousPewds #pewdiepieTheBest ? pic.twitter.com/xSQXZjo8oM

— Sneha (@sneharveen) November 13, 2015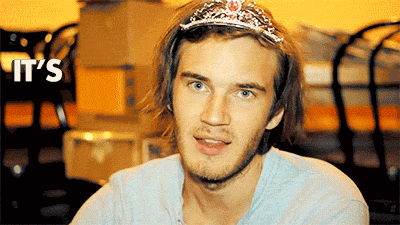 HE HAS A CUTIE FACE.
OMG LOOK AT THIS CUTIE FACE! #pewdiepie #poodiepie #youtube #senpai #gamer #bros #broarmy #fabulous #felixkjellberg pic.twitter.com/VO6lxxSyDy — The Bros NewsŽ #31 (@officialArmyBro) November 18, 2015
HE'S CONFUSINGLY GOOD-LOOKING
I find felix very goodlooking i dunnu why pewdiepie

— annes the menace (@EternaLAMP) March 1, 2014
HE'S DADDY (WTH?)
@pewdiepie You are beautiful, daddy. ? — PapěDimmi ?_? (@PapiDimmi) November 2, 2015
HIS FACE GOT LONGER
@pewdiepie Your face got longer

— Gaming PGM (@jerome_bommy100) October 19, 2014
MIRANDA ENDORSES HIS BEAUTY    
Miranda Sings thinks Pewdiepie is attractive — YouTuber Updates (@YouTuberUpdates) May 25, 2015
HE HAS A HATER STOPPING SMILE
@pewdiepie your fab just the way u r cuz wen u smile the whole world stop and stares for awhile cuz ur too fabulous for DEM haters #WoT

— Sandy Kawaii Shion (@Sandy_Shion) August 1, 2014
HE HAS A PROFOUND EFFECT ON OVARIES  
@pewdiepie can u not be so attractive thx ~ all fangirls ovaries — meg (@taeqt) November 11, 2014
HIS BEARD IS DOING IMPRESSIVE THINGS
@pewdiepie That beard is coming along very nicely

— a • #ALWGAP (@bantamaz) November 11, 2014
... Should we even go on?! Tell us your thoughts!!