Who's Marina Joyce And Why Does The Internet Want Her Safe?
27 July 2016, 10:20 | Updated: 6 November 2017, 09:36
Here's everything you need to know.
If you've been anywhere near Twitter in the past few days, you will have noticed the strange trend #SaveMarinaJoyce right up near the top with thousands of tweets from popular YouTubers. It turns out that in addition to hosting an extremely unsafe fan meet up in North London, a YouTuber called Marina Joyce has been a big subject of conspiracy on the Internet for a long time.
We've done a massive amount of leg work and research to find out who Marina is, what has happened throughout her YouTube career and even uncover what the Twitter trend is all about. This article will be updated if any more crucial details are released, so keep checking back for more.
---
Marina is a 19-year-old beauty and makeup vlogger from North London. Her full name is Marina Rose Iris Louise Joyce and she was born on the 1st of February 1997.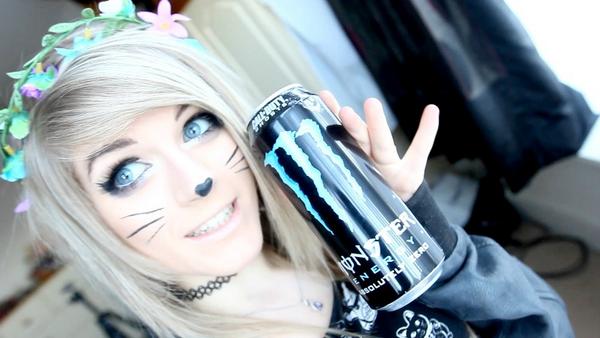 Her first video was uploaded on the 21st of July in 2012, nearly two years after she signed up to the platform. In the video, she is seen vlogging in her bathroom in the typical hyper and chirpy attitude her fans would soon love.
Her most popular video is a "SUPER LONG EYELASHES MAKE-UP TUTORIAL", which has gained nearly 5 million views. Over all her makeup videos, Marina has been complimented frequently on the beautiful length of her natural eyelashes.
In November 2013, she uploaded a video called "A Story" in which she claims to have been sexually abused by Sam Pepper. The incident allegedly took place at the UK Warped Tour gig when she was only 16 and Sam was 22.
There have been multiple instances on social media in which fans have tried to reach out to Marina Joyce to see if she is okay. From guns in the background of her bedroom, cat emoji's and even conspiracies of her whispering "Help me" in her videos, social media has been thrown into a swirly hole of terror over Marina's safety. We have rounded up all the myths surrounding her health and safety in this article.
https://twitter.com/Sadnightvibes/status/757979619777613826
In a YouNow live stream, she addresses her bruises saying that it's "a sad story that she can't explain right now" in addition to pointing out how "angry" she is at Sam Pepper for accusing her of being on drugs.
The trend #SaveMarinaJoyce started on Twitter after fans and other YouTubers became rapidly concerned over a meeting up she had organised at 6.30am in the morning in Bethnal Green. Even after the trend and mass amount of vloggers warning fans NOT to attend unofficial meet-ups, Marina tweeted out that it will still be going ahead on August 3rd.
(Bethnal Green on Wednesday on 3rd, i hope you guys know that)

— Marina Rose Joyce (@MarinaJoyce7) July 27, 2016