Shane Dawson Just Ate Hospital Food And It Made Us Feel Sick
13 September 2016, 15:06 | Updated: 17 July 2017, 12:20
Thank god it was Shane eating it...
Shane Dawson is the most pure creature on the Internet. Not only does he have zero chill and absolutely no f*cks in the entire world, but he's delivering quality content to his fanbase by repeatedly eating the nastiest food in the world on camera. After his dodgy dine-in with a black pizza and school lunches, Shane just moved into the really hardcore stuff - hospital food.
In this brand new video, Shane eats five of the most disgusting meals we've ever seen in our lives... and spits out every single one of them. From a questionable "Chefs Salad" to "a sandwich coloured the way no food should be", it's safe to say that this is Shane's most disgusting food challenge yet - and we loved watching every single second.
In the entire video, we see Shane chow down on the following hospital meals:
A peanut butter and (strawberry!!) jelly sandwich, a "slop" of cottage cheese and some Jello
A plate of chopped up liver, chopped up mushrooms and some "bread for dipping" that felt like "a bunch of chickens were scratching" the inside of his mouth
A green salad wrap that smelt "a like a homemade salad" and completely "offended" Shane
A beef stroganoff that made him beg for "people in hospitals to be treated better than this"
And finally, a Chef Salad containing lettuce, lunch meat, half and egg, fat free ranch dressing and a Kraft cheese single - oh and it had a bone in it
After watching the sheer delight on Shane's face when he eats Jack In The Box or Baskin Robbins, we do have to wonder why Shane keeps torturing himself like this on camera. Oh well - keep on doing it Shane! Your hospital food video might just be our favourite one yet!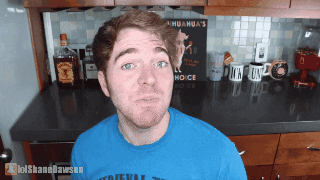 Leave in a comment below to help us decide which hospital meal he hated the most - we have our money on the chopped mushroom and liver sandwich.