This Is A Thomas Sanders Hug Appreciation Post, Just Because
18 January 2017, 16:14 | Updated: 17 July 2017, 12:23
Welcome to heaven.
This is not brand new information to you, I'm sure, but Thomas Sanders is literally the greatest hugger on the whole dang planet. From the way he genuinely adores hugging his fans, to the way he closes his eyes and appreciates the moment they share, Thomas is pretty much a Hug God at this point.
So, to honour this innocent flower and precious being, we've rounded up some of our favourite shots of Thomas giving some love to his fans and friends - and yes most of them came from VidCon. People hug a lot at VidCon, okay?! Also, don't forget to send us pictures of you hugging Thomas in the comments below!
---
Here's Thomas giving some physical hug love to dancer and fellow Viner, Amymarie Gaertner.
[Source: Tumblr]
This hugging may not look reciprocated, but we can't imagine anyone NOT wanting to love Thomas back.
[Source: Tumblr]
So this is the first of the VidCon pics that immediately inspired us to make this article. He's so 100% into this cuddle, and it's making our cold hearts melt.
[Source: Tumblr]
Not only is there a cuddle in this photoset, but a pretty sweet high-five too. A+ meet and greet photo we think!
Okay, not so much of an embrace, but this fan is getting the absolute most out of seeing her fave, and we've gotta salute that!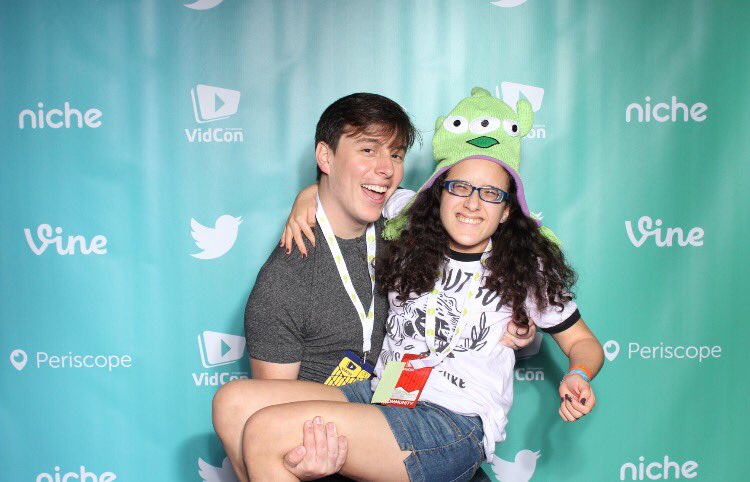 Okay, is this not just the most perfect faux-Prom photo you've ever seen? Thomas would make any date a lucky one.
A side-to-side cuddle with Thomas and Jon Cozart is better than absolutely everything in the world.
We literally HAD to put in a picture of a Thomas Sanders x Leo The Giant cuddle, didn't we?
More Prom-style photos!! Someone needs to tell Thomas to just start up a business where he just takes lucky individuals to Prom to make their dreams come true.
I'm pretty sure this is the girl Thomas was picking up earlier on in the article. I'm glad she got some hugs out of him as well.
Thomas may be the King of Hugs, but clearly isn't the most royal person in this embrace.
Someone got to hug Thomas in his Prince get-up and I'm so insanely jealous.