Ultimate Storytime: Thomas Sanders Tells Us About His Exciting New Tour
7 July 2016, 13:55 | Updated: 17 July 2017, 12:18
We caught up with Thomas Sanders to talk about his Broadway dreams, joining the YouTube community, and his exciting new stage show 'Ultimate Storytime'.
Even in the world of #TeamInternet, not every famous person is as nice in real life as they seem on camera - but it's impossible to say anything of the sort about Vine star and rising YouTube sensation Thomas Sanders. His unique brand of optimism, inclusiveness and love of all things musical has helped Thomas rise to internet stardom; and now he's hitting the road for the first time with his very own stage show, 'Ultimate Storytime with Thomas Sanders'.
As we mentioned in our VidCon followup article, we had a chance amidst the madness to sit down with Thomas and talk about meeting his own heroes, being a huge source of internet positivity, and the weirdest reactions to his signature brand of 'Storytime' Vines...
---
Is this your first VidCon? How have you found joining the YouTube world in real life?
It is! I'm super excited to be here, everybody's so kind. There's a hesitation coming into the YouTube world from a different platform, but I've gotten such positive support from people, and it's such a good reflection on YouTube as a whole.
It's been wonderful meeting some of my heroes that I had growing up, and knowing there's a mutual appreciation is so welcoming!
---
Who have you been most excited to meet this weekend?
There's Hannah Hart, Grace Helbig, Tyler Oakley, The Hillywood Sisters, JacksFilms, even Jack Vale, amongst so many others! I've gotten to meet and talk with so many people, it's been great.
---
'Ultimate Storytime' is a pretty unique tour idea; what was the inspiration behind it?
This was one of those far-fetched dreams I had a while back, and thought "If it happens, that would be amazing!" and now it's all coming together. And to have so many people already on board, who want to come see me in different cities, is very humbling, I'm honoured. When I'm on one side of a screen, you don't really understand the impact that you're bringing to people; and to see such tangible positive support from people is overwhelming.
It's gonna be an original full-on musical show; I'm a very theatrical dude, so we really wanted to bring a great story, with humour, but with a good message; hopefully people will have a good time, and leave feeling even better!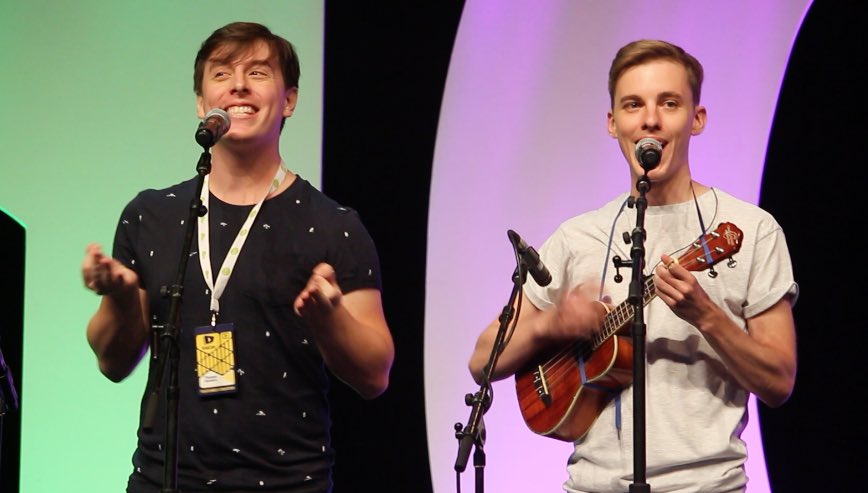 Thomas performing with Jon Cozart onstage at VidCon 2016
---
If you could compare it to any Broadway musicals, what would they be?
If I could compare it to anything, it does have a feel of some shows by Pasek & Paul ('Edges', 'A Christmas Story', 'James & The Giant Peach'); who write some really good emotional songs that are uplifting, but can be delivered in a funny style.
'Ultimate Storytime' has some clever songs that get stuck in your head; they're being written by my good friend Jacob Fjeldheim, and he's a genius! I'm so honoured that he wanted to come and help me write the show.
---
Everyone sees you as one of the most positive guys on the Internet; how much do you hope the show will spread that IRL?
Well that's awesome of you to say that! I definitely hope it's going to have that message; because one thing I've really learned over these past couple of years from my audience is that the internet is a scary place. And it's helpful to have things online that are accessible for everybody of all ages, and any race, gender, or sexuality where they can enjoy something that makes them smile, and doesn't make their identity the butt of a joke.
We're all people, and so I want this show to enforce that message: that you can be who you wanna be, write your own story, and you don't need to fit somebody else's standards. It's important for them to feel valid, and loved and supported; hopefully this show supports that, along with good comedy!
It's important to note that they're coming, knowing me from Vine; so I want to also deliver what they know from Vine onstage so they have that connection.
---
What's the weirdest reaction you've had to a Storytime vine?
Luckily it hasn't been anything too ridiculous; usually any negative reactions I've had from people are mostly just weird looks, or walking away strangely, or laughing at me. Which I totally prepare myself for! And I don't post anything without permission.
There was one time I was in a store; a lady was very concerned by what I was doing, so talked to people at the store and I had to leave! That was probably one of the scariest moments, because I don't want to make anybody uncomfortable. I like to make sure that those Vines end on a positive note!
---
A lot of people use digital platforms like Vine and YouTube to springboard into another career: Are stage performances and tours a long-term goal for you?
Before Vine was ever around, one of my long-time dreams was to somehow perform on Broadway; it was one of those dreams where I thought "Well it's never gonna happen, but it would be so cool". And now, Vine has opened up so many awesome doors to that - I've been able to interact with several members of the Broadway community, I got to perform with Adam Pascal ('RENT'), Vine with Leslie Odom Jr ('Hamilton'), and Seth Rudetsky invited me onto his show!
They've all been not only appreciate of my comedy, but also had some wonderful words to say about my performance. It's given me so much hope that I could someday make that a reality and be on that stage. Also the Broadway community is starting to crack into the social media world; and so I was invited to be at the Obie Awards, and from there they enjoyed my presence enough to invite me to the Tony Awards! It was such an honour, and an amazing experience.
Thomas with 'Hamilton' star Leslie Odom Jr.
---
Do you think you could be the first Viner/YouTuber to win a Tony?
I feel like it would be too bombastic to say anything! I think that would be a wonderful thing if that would ever be a reality. I would definitely work hard to ensure that I had earned it.
---
Can you sum up 'Ultimate Storytime' in five words?
"It's longer than six seconds."
---
'Ultimate Storytime with Thomas Sanders' begins its tour around the US in mid-August; you can buy tickets and VIP packages at ultimatestorytime.com.
---