Trisha Paytas Is The Most Famous YouTuber You've Never Heard Of
5 May 2016, 15:53 | Updated: 6 November 2017, 09:34
Honestly, this is most interesting lady on the planet.
From music videos, TV shows and her very own short-film, you really should know about Trisha Paytas by now folks. Having been on YouTube for nine years, she's the proud owner of a digital media brand so strong it can be traced back to Quentin Tarantino, Eminem and even Amy Winehouse - so why isn't she in your Subscription box already?!
We've searched the web and found 22 incredible things about this blonde bombshell that single handedly PROVES that she is the most accomplished, interesting and inspirational YouTuber on the entire planet. Make sure you leave a comment at the end of the article to tell us how right we were as well - we really enjoy gloating.
---
She has her own Urban Dictionary page?!
Ms Paytas wants to empower the world with her size-busting music videos such as 'Fat Chicks' - which she performed and wrote herself.
Talking of music videos, Trisha had a starring role in Eminem's 'We Made You' video played Jessica Simpson.
She ALSO starred in Amy Winehouse's 'Tears Dry On Their Own' video. Right at the beginning, she can be seen leaning against a brick wall.
Trisha Paytas appeared in an episode of My Strange Addiction in 2010 as a self-admitted tanning addict - at the age of 14!
She started stripping when she was 18 years old to earn money in between acting jobs.
Trisha discusses her stripping and job as an escort in her book, 'The History of my Insanity', where she goes into more detail about working inside the sex industry.
Ms Paytas has a whopping 22 listings on her IMDB page, including guest appearances on Modern Family, The Ellen DeGeneres Show and The Price Is Right.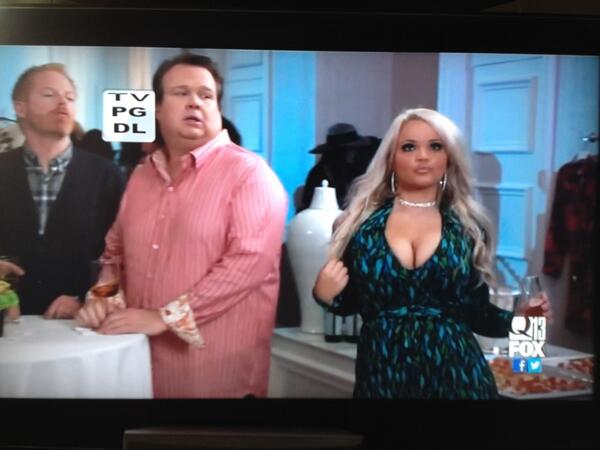 She made her debut TV appearance on The Greg Behrendt Show.
Trisha originally moved to LA and started her YouTube channel to idolise Quentin Tarantino - who she met only 12 months later!
Trisha Paytas once tried to break the World Record for 'Fastest Talker', but unfortunately she wasn't successful. You can see her attempt below!
She's currently dating Joe Slaughter, a former contestant of 'Worst Cooks In America'.
ugh, why am I such a sucker for the pretty faces ?? oh well @joeslaughter1 be worth it ❤️ pic.twitter.com/AOHUKLcffR

— Trisha Paytas (@trishapaytas) May 5, 2016
She has her own fragrance called 'Trish'!
Trisha drives a bright pink Mercedes-Benz G550 G-Wagen that will make you so insanely jealous - it was custom-made by the folks over at West Coast Customs, the team behind the TV show Pimp My Ride.
She's had QUITE the controversial and anti-feminist past - and came out as voting for Donald Trump.
In a very recent video, Trisha Paytas admits to being addicted to the illegal painkiller Vicodin for years.
You'll be able to find NINE of her EP's, albums and singles on iTunes right now.
She's estimated to be worth slightly below $1 million.
Trisha Paytas started her YouTube channel NINE YEARS AGO.
Her first single, a cover of Eartha Kitt's 'Santa Baby', reached #87 on the iTunes Holiday chart.
She has a second degree black belt in Tae Kwon Do.
And finally, Trisha says that the biggest influence in her life is Anna Nicole Smith.