Here's Why Tyler Oakley Is A Precious Cinnamon That's Too Pure For This World
26 November 2015, 14:59 | Updated: 17 July 2017, 12:12
Only a handful of people will ever be 'cinnamon roll' worthy, but I think you'll agree with us that Tyler Oakley is the most precious of them all.
We do not know of a single person in this entire UNIVERSE that doesn't like Tyler Oakley. He's too pure for this world.
But if you still can't quite put your finger on exactly why it is that you're in love with him, we came up with 10 of the most cinnamon-rolly things that Tyler embodies in his everyday life. Let's all watch in awe as he slays existence.
AUGUEST IS THE BEST MONTH OF THE YEAR - It's that one month of the year in which Tyler does a collab every single day. We see him get drunk with Hannah, saucy with Troye or just plain ridiculous with Jenna and we adore every single second it all. Honestly, it should become it's own TV show.
HIS DEDICATED CHARITY WORK FOR THE TREVOR PROJECT -  Every single year, on his birthday, Tyler asks his fans not to shower him in gifts or weird sex tokens. Instead he asks them to consider donating to his favourite charity; The Trevor Project. Dedicating all of their efforts to helping LGBT youth across the world, in 2015 alone his birthday raised half a million dollars. What an angel.
HIS HAIR IS THE EPITOME OF 'ON FLEEK' - Whoever came up with this meme must have been looking at Tyler's hair when they did so. Who knew a simple quiff could become such a trendsetter! Even Jacksepticeye is sporting a green-do. But we all know that no one does a rainbow fro quite like Our Tyler.
PSYCHOBABBLE IS THE ONLY PODCAST YOU NEED IN YOUR LIFE - If I can get deadly serious here, I can tell you as a matter of fact that this podcast has made me cry with laughter at multiple people on the underground. The flow of sass between Tyler and his co-host Korey is GAGGING. It makes Tuesday feel like less of a drag.
EVERY SINGLE SECOND HE SPENDS WITH TROYE SIVAN IS GOLDEN - I mean, just look at them. That's a pair of freaking cinnamon buns if ever I've seen some. And not the mention the tension, both between them and their Troyler supporters... We don't ship much, but when we do it's Troyler.
HIS GENUINE LOVE FOR QUEEN JACKIE - It's entirely possible to call Momma Oakley a cinnamon roll just by herself, but it's the absolute adoration Tyler sends her way that makes him to die for. With family being a big deal to Tyler and his charity work, it's precious to see such a display of love and compassion between the Oakley family. See Also: Mom Goals.
HIS CONSTANT PRESENCE AND SUPPORT WITHIN THE LGBTQA COMMUNITY - Out and proud about his sexuality, Tyler has never overestimated the struggles of other people within his community and actively seeks to help others in their times of need. His talks on openness and fairness bring a tear to the eye as his passion is truly that of helping people regardless of their situation. Tyler for President, amirite?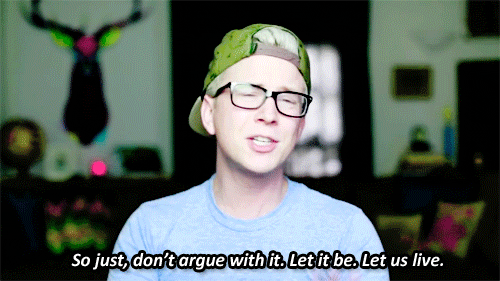 HIS FLAWLESS ABILITY TO SPILL THE GODS HONEST T - Tyler will serve you shade any day of the week and you know it. No burn is beyond Tyler as long as it needs to be said. An absolute stranger to telling lies, Tyler embodies the healthy and honest attitude to life we should all be taking. Take some notes people.
HE'S A PROFESSIONAL FAN GIRL, JUST LIKE US - Loud and unashamed of his ability to fangirl at any given second, Tyler represents pretty much how all of us would handle a celeb just rocking up to your door. His faves? The entirety of One Direction and Glee's Darren Criss. We're so with you there.
HE'S ALWAYS THIRSTY - Like, always. And not just in ways you've expect as we've seen him go for Mamrie as well. Even JUSTIN FLIPPING BEIBER himself recognises Tyler as being practically dehydrated when it comes topless pictures of the singer. See for yourself...
Well, unless you can think of anymore reasons, I think we have definitively proved that Tyler Oakley is a beautiful cinnamon roll that is too pure for this planet. But please, if you can think of anymore, we NEED to hear it.
Leave us a lush comment.